Hoekstra continuing on education family tradition
Posted on September 10, 2014 by Taber Times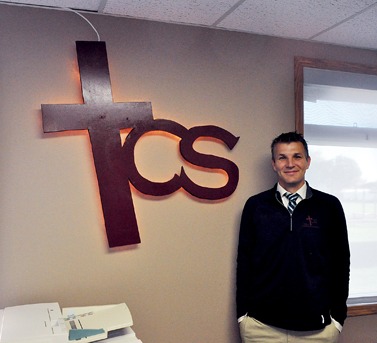 New Taber Christian Alternative School principal Klaas Hoekstra is confident of an exciting and productive school year.
By Greg Price
Taber Times
gprice@tabertimes.com
Taber Christian Alternative School has a new principal at the helm as Klaas Hoekstra replaces Jon Bronsema who returned home to Eastern Canada, as the school continues its solid reputation as a progressive school with Christian values.
Hoekstra grew up in Ontario, the youngest of six kids where the bloodline is deep in education with both of Klaas' parents in education as well.
Hoekstra's background is in music and business as an undergrad as he completed his Masters Degree in Education.
"My dad was in administration as well and I saw the value of connecting with kids with teaching and learning," said Hoekstra. "A life-long learner is a term I often use as well. Intrinsic motivation was my thesis (for his Masters Degree) which is instead of just giving kids work and say 'get at it,' it's how do we get them excited about learning. It's not about let's use technology and make it flashy, it's how do we develop in them a love of being a life-long learner."
Married with three children, the Hoekstra family was looking for an adventure along with raising a family with small-town values in which the opportunity came up at Taber Christian in which Klaas previously served as vice principal.
"I've loved the small-town atmosphere and the people here," said Hoekstra, who was previously in Hamilton, Ontario, a city of 600,000 plus. "You know your neighbours here and you connect with them. The transition has been tremendous here.
"It's been an incredibly supportive community here and that community includes the Horizon head office. Anytime I have a question, they are there for me which is great. We also have our society board here, our parent council and just the parents themselves and the church community, they are all excited about what we are doing here."
What the school is doing for the 2014/2015 school year is growing in its population. There has been a good, steady increase in enrollment.
"Since we have become an alternative school six years ago, we've seen more and more enrollment. This past May, we were able to break ground for our new wing and six classrooms," said Hoekstra. "It gives us an ability to stretch out a little more in the school and it gives us a little more room for future growth."
There are new teachers at the school this year in Jodi Hummel who is teaching Grade 4. Tristan Gilmour will teach Grade 5.
"Because we have a larger enrollment in Grade 5, we have split them in some of the larger core subjects," said Hoekstra.
As an administrator, Hoekstra has two goals. The first is focusing on literacy skills, especially early literacy intervention. The second is best-teaching practices.
"There is the idea of let's collaborate together and say 'hey how do you do this and how can I learn' with teachers working together," said Hoekstra.
"I have a really great staff who is willing to learn and willing to work together which makes it easy to collaborate."
With Alberta Cross Curricular Competencies, there are 10 core ideas.
"One of them that we want to talk about with our students is creating opportunity," said Hoekstra. "In my mind education, with kids sitting in seats, it's great, but I want it to be hands on and practical. I want them to understand how to swing a hammer, how to launch a self-sustaining filtering island in a pond (current environmental project). At that point education becomes real for them and they have a hands-on education that makes memories."
Athletics, fine arts, lots of extra curricular, it is a variety of programming Taber Christian Alternative School strives for.
"We like to give our kids opportunities right across the board. We want kids to explore different skills they may have been blessed with that they don't know yet, discovering them for the first time. With our athletics, there are no tryouts, if they sign up, they are guaranteed to be on the team," said Hoekstra.
"We love to win, but we love even more kids getting out there and having fun and getting some exercise."
The theme for the start up of the year for Taber Christian Alternative School is community building. The school has five different themes that it is using throughout this year that connect both its curriculum to its biblically – based mission and vision statements.