New fall catalogue for adult learning
Posted on September 3, 2014 by Taber Times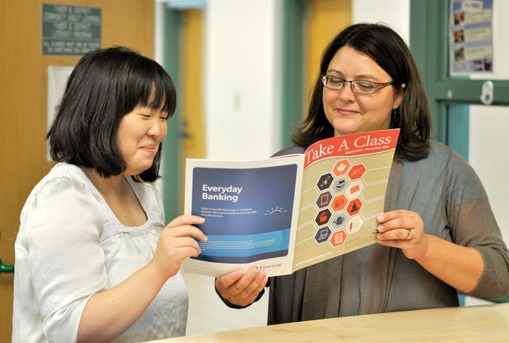 Donna Sato and Jill Livingstone check out some of the new courses available in the Taber and District Community Adult Learning Association Take a Class fall course guide. The Book will be popping up in mailboxes and around town in the next couple weeks.
By J.W. Schnarr
Taber Times
jwschnarr@tabertimes.com
They say you learn something new every day, and the Taber and District Community Adult Learning Association are going to help make that happen with their brand new fall catalogue hitting Taber streets.
"We're really promoting the idea that learning is for everybody," said Jane Brenner, TDCALA executive director.
"I don't care if you're 90 or 18, learning never ends."
The fall catalogue is the companion to the annual spring catalogue, and features a number different courses hosted by TDCALA with topics concerning employment enhancement, community issues, community interests, English as a second language, and regional interests such as courses being taught in Vauxhall and Barons-Eureka-Warner.
TDCALA's Executive Director Jane Brenner said this year, local residents will be able to take part in traditionally popular courses such as GED (General Education Development) preparation, computer courses, and English and citizenship classes, as well as new offerings from local instructors such as Adobe Lightroom for budding photographers, Gluten Free Eating, Introduction to Paverpol, Digital Storytelling, Tai Chi, and Vinyasa Flow Yoga in Vauxhall.
"We've got lots for the public to choose from," said Brenner.
"We're trying to accommodate a lot of the suggestions for new courses that people bring in."
Additionally, job hunters can always drop in on Tuesdays to Thursdays from 9 a.m. to 4 p.m. and take advantage of free resume writing services.
"You can come in without an appointment and get a free resume done," said Brenner.
"We keep it on file, and you can come back and get it updated again."
Adult learning is a popular activity in the Taber area. Brenner said more than 1,000 local residents will take part in a TDCALA course or service over the course of a year, or roughly one-in-eight people living in Taber.
"It would probably be one-in-three if we were to just look at the adult population," Brenner said.
Brenner went on to say adult education and ongoing education in general are vital to the community.
"If you're not a learning community, where are you going?" she asked. The Town of Taber has identified in their strategic plan that they would like to see Taber as a learning hub. The community Adult Learning Council is vital to that (goal)."
The catalogue should be appearing in the mail over the next couple weeks.
Residents who do not have flyers delivered to their mailbox will not receive the catalogue, but can stop by the TDCALA office at 5011 49th Avenue.
For more information, please visit Taber Community Adult Learning Association on Facebook or visit their website at http://www.taberadultlearning.com.