Duck race makes splash at M.D. Park
Posted on September 3, 2014 by Taber Times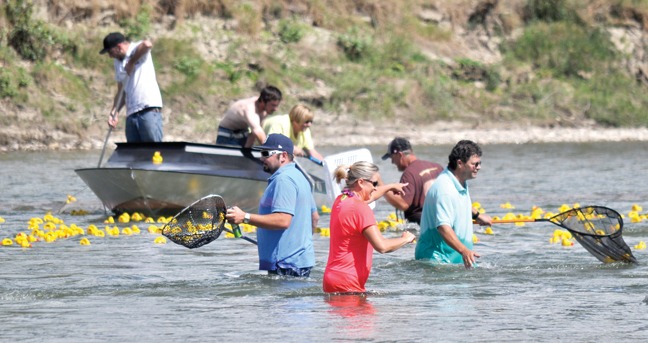 Volunteers were busy scooping up little rubber ducks from the Oldman river Saturday following the Taber Food Bank's third annual Duck Race. The event raised more than $5,000.
By J.W. Schnarr
Taber Times
jwschnarr@tabertimes.com
The name of the Oldman River could have easily been changed to the YellowDuck River for a little while on Saturday as 1,000 of the little guys raced down the river for a good cause.
"This is the third annual duck race and one of the (Taber Food Bank's) big fundraisers for the year," said Vicki Koersen, chairmen of the Taber Food Bank Society.
There were 1,000 rubber ducks in the race, which began with a mass dumping from the M.D. of Taber bridge and ended when they crossed a predetermined finish line a short ways down the river, along the banks of the M.D. of Taber Park. The ducks were sold for $5 each, and raised $5,000 for the food bank as well as more funds from local businesses pitching in to help with food and refreshments.
The ducks were marked with a number prior to the race, and the top five winners as well as the very last place duck all won prizes.
This is the first time the public has been able to view the race, which has taken place in an irrigation canal in the past. Koersen said they had been unable to allow spectators access to the canal due to insurance reasons.
Immediately following the race, the ducks seemed to have a mind on freedom as hundreds of little yellow escapees made it through a wall of nets and boats and had to be chased further down the river. The mass escape brought some laughs from the crowd, which had assembled along the bank to witness the event.
Koersen the turnout and support for the event has made it another large success for the food bank, an important and worthwhile service provided to those in need.
"We support and help people in rough times," she said. "A lot of our clients are people with terminal illnesses, or they are people going through mental or physical illness."
She added the food bank is grateful for all the help and recent publicity it has received regarding fundraising efforts.
"(This event) is great fun," she said. "There was a ton of work that has gone into this race."