Anders Bow River bid swirling in controversy
Posted on September 3, 2014 by Taber Times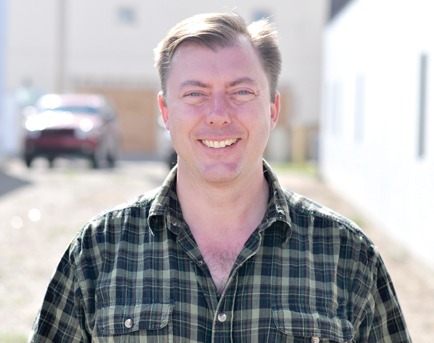 Bow River MP hopeful Rob Anders, taken recently outside the Taber Times
By J.W. Schnarr
Taber Times
jwschnarr@tabertimes.com
The Wildrose Party is not endorsing controversial MP for Calgary West and Bow River riding hopeful Rob Anders, no matter what the robocall on your phone may seem to indicate.
Residents, as well as the nominees, for the new Bow River federal riding have been complaining that they have received robocalls from former Cardston-Taber-Warner Wildrose MLA Paul Hinman, who seemed to be endorsing Anders' bid for the Conservative Party of Canada spot in the riding.
Last week, the Wildrose Party issued an official statement, saying they categorically denied any involvement with Anders and this race, with Danielle Smith saying the following:
"Wildrose as a party is neither endorsing nor assisting any nomination contestant in the Bow River electoral district."
Little Bow MLA Ian Donovan said between the wording of the robocall and the fact Hinman was the voice behind the call, it could lead local residents to believe Anders had garnered the support of the Wildrose Party. That's just not true.
"The wording of it sort of came across like the party and the local MLAs were supporting him," he said. "That couldn't be further from the truth."
"MLAs can endorse whomever they want," obviously," said Cardston-Taber-Warner MLA Gary Bikman. "But if we were doing it, we'd be doing it as individuals and certainly not under the WildRose banner."
"We just felt this statement needed to be made because it was giving the appearance of Mr. Anders being supported by WildRose, and that's simply not true," Bikman said.
When asked, Bikman said he wasn't in a position to comment on the possible reason behind Anders' actions.
"I don't think it's fair of me to question someone's motives," said Bikman. "Obviously he wants to win, and thinks this will help him win."
Donovan wasn't mincing words when it came to the issue, stating he hadn't come out in support of any of the nominees and had only met Anders once three years ago. He said he was "disappointed" that these events had been occurring.
He added while he had been watching the race, he had not publicly picked a winner.
"I want to make it be known that I haven't officially endorsed any of the candidates for the Bow River riding," he said. I have a couple I prefer over others, but that's my personal opinion, not a party opinion."
Donovan said he was disappointed that the issue has come up.
"It's just sad to me when somebody comes out and they're portraying themselves like a local provincial party is backing them when it isn't true," he said.
"When you get those, you kind of shake your head and go, 'what were you thinking on that?" he added.
Anders, a 17-year MP with Calgary West who recently lost his nomination in Calgary's Signal Hill riding, has stirred up controversy in the past by calling Nelson Mandela a "terrorist", and by insinuating that the death of former NDP leader Jack Layton was hastened by the actions of current leader Thomas Mulcair. Prior to announcing his intentions to run for the Bow River seat, Anders was quoted by local media as seeing the Bow River riding as one with "a lot more trucks," something Donovan took issue with.
"That is not this riding," said Donovan.
"I can tell you provincially, this riding has very hard working people … to play us down that we're just a bunch of half-ton driving hillbillies doesn't sit well with me and I assume most of the voters in this riding would think the same.
"Lots of people I've talked to, and especially media in the last 24 hours, they say he just doesn't seem to get it," said Donovan. "(They said) he seems to think he's just going to walk in here and be the Ayatollah."
Donovan said he has been told by constituents that Anders was going door-to-door with a clipboard featuring a prominent Wildrose sticker and hinting if things didn't work out federally, Danielle Smith of the Wildrose Party might help him win a provincial riding.
"That's why our leader was part of that press release," he said. "She's definitely not actively pursuing him to become one of our candidates."