Questions arise regarding fire response
Posted on August 28, 2014 by Taber Times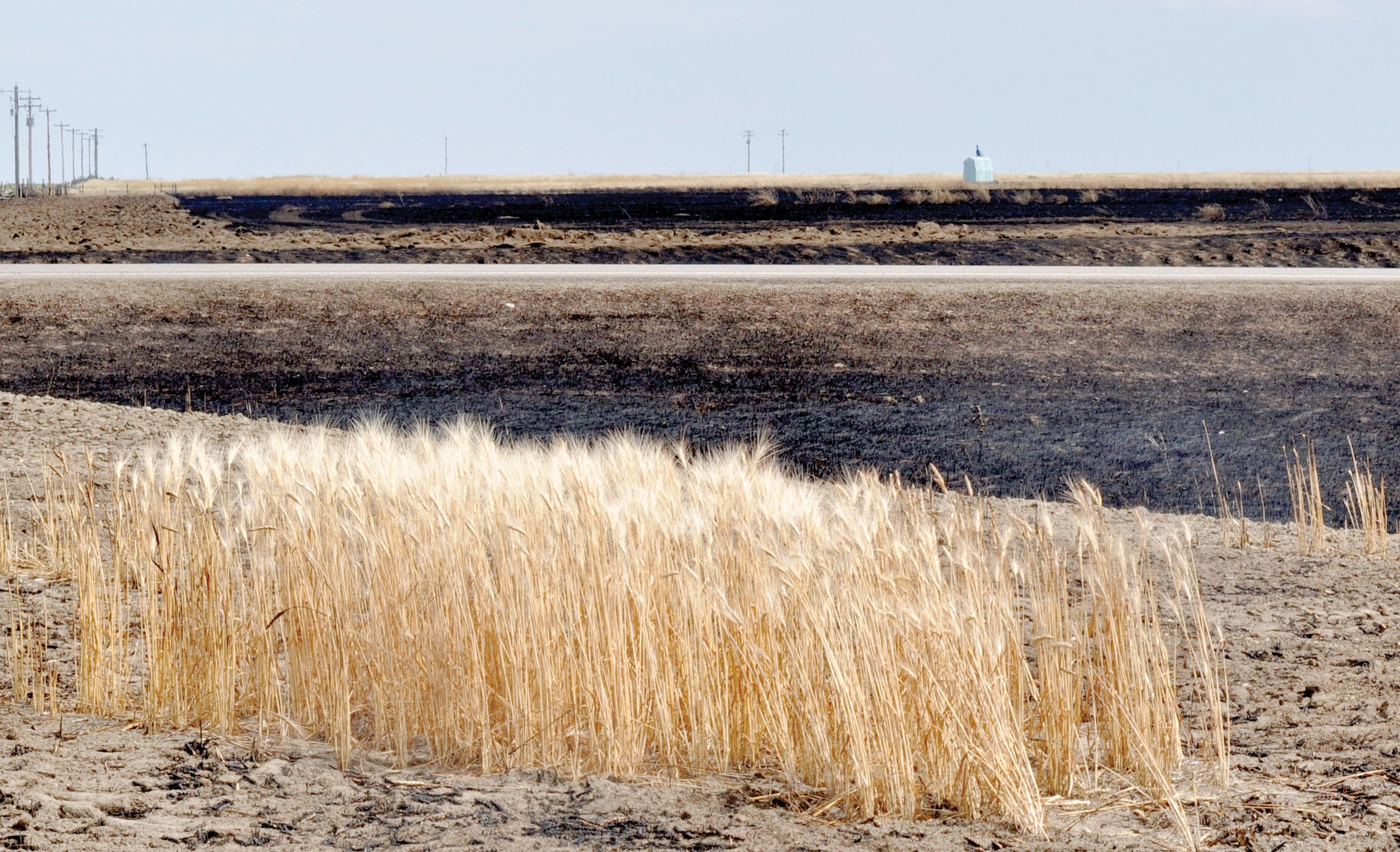 Times photo by J.W. Schnarr
By J.W. Schnarr
Taber Times
jwschnarr@tabertimes.com
Questions are swirling around what exactly happened during a fire which scorched nearly 700 acres of farmland and grazing land north of Taber two weeks ago. In the wake of that fire, which saw a response from four different fire departments along with help from local farmers and members of the Hutterian Brethren, spray planes, and helicopters, some are questioning the tactics of new fire chief Steve Munshaw to contain and control the blaze, which caused 410 acres worth of crop damage valued at an estimated $120,000.
On Aug. 13 during the mid-afternoon, Taber Emergency Services fire department responded to a fire on Brett Stimson's property along Hwy. 864.
"We were just going about our day combining, and we figure something possibly went through the combine," Stimson said. "Maybe a rock, we don't know exactly. But peas are really highly combustible."
The fire quickly grew out of control, and his goal of containing the fire himself shifted to calling 9-1-1 and then calling as many neighbours as possible to help with firefighting efforts. Stimson said the second call he made after calling 9-1-1 was to Shaun Kinniburgh of Kinniburgh Spray Services, a local cropdusting company which handles air support for fires in the area through agreements with the Municipal District of Taber and Environment and Sustainable Resource Development (ESRD).
Ordered out of the area?
Stimson claimed after a couple air drops, he was approached by Munshaw, who first asked who it was in the air, and then told Stimson he needed the planes out of the air space immediately because water support was incoming and was five minutes away.
However, there was no sign of ESRD for nearly 40 minutes, and they dropped firefighters, not water into the area.
"In that situation I had to follow what the fire chief says," Stimson said. "I had to call off the planes."
Abe Loewen is a 10-year veteran operator whose equipment was the source of the fire. He said he was there when Munshaw ordered Stimson to call off the cropdusters.
"He told us to call off the airplanes, and in my opinion that should have been done," Loewen said.
Kinniburgh said he was contacted by the landowner and asked to come help with the fire, and was later asked to leave because the landowner claimed that the fire chief had ordered the planes out of the area in preparation for the arrival of wildfire helicopter crews.
"We didn't have permission to be there because the firebombers were coming," he said. "Apparently we aren't firebombers even though we are firebombers."
Kinniburgh said the fact that he has an agreement in place with the M.D. may not have been known to the fire chief.
Unofficially, Kinniburgh Spray Services have been helping to put out fires for more than 20 years, according to Kinniburgh. Officially, however, he said an agreement with the M.D. has been in place for at least the last five years, and a deal with ESRD has been in place since 2003. As far as area coverage, Kinniburgh said his company fights fires from Saskatchewan to Lethbridge, through the County of Warner, M.D. of Taber, and County of 40-Mile.
Kinniburgh said this is the first time he has been called off a fire before it was contained.
"We've been pulled off because of night," he said. "But we've never been pulled off when the fire was hot and heavy."
"We were told, get those airplanes out of here, they have fire bombers coming from Pincher Creek, E.T.A., five minutes," he said. "So at that point, that means for me, it is now restricted airspace, get out. I'm not welcome here anymore, so we left."
Communication breakdown?
However, Munshaw says he didn't give that order, and claims he told Stimson he needed communication with the planes or else they would have to leave the area.
"I asked, who are those people? I need communication with them, or we're going to have to call them off, because I also have (ESRD) coming."
Munshaw said he believes there was a communication breakdown somewhere, because what he says began as a request for a communication line or a need to call off the planes turned into an order to call off the planes due to inbound government resources. He also said he was asked whether he wanted ESRD or the cropdusters, and his answer was that he wanted both.
"I wanted them here," he said. "I needed both."
While it is impossible to know for sure exactly what was said during that conversation, Kinniburgh said the real issue could be that Munshaw seemed unaware of the role his cropdusters play in fighting local grassfires, something he couldn't fault the fire chief for.
"If you look at the chain of events, it didn't just start with the fire chief. It started with the people in charge of him," he added. "Did they give him the proper information at the start of that job? I don't know."
Munshaw admitted this was the first time he had encountered the cropdusters on scene, and until that point was unaware of their role locally.
"This was pretty much the first time I learned that we have our own air support system flying around," he said. "It's kind of a nice thing for a fire guy to know."
In response to the communication issues, Munshaw said he was planning on meeting with Shawn Kinniburgh to further explore what happened.
"If we have a resource, let's use it, and use it really well."
Kinniburgh wanted to make it clear he could not make any assumptions about what had actually happened. He was also quick to add that he is available for emergency services to use as a resource any time he's needed.
"If they need me to come help with a fire tomorrow, I'll be there," he said.
ESRD issues
Kinniburgh said once the ESRD helicopters arrived, it became apparent the fire was being treated like a forestry incident, something that simply doesn't work in a grassfire event.
"You cannot fight a grass fire the way you fight a forest fire," said Kinniburgh. "We do both, and once you start stacking airplanes and start treating it like an air traffic control zone, you don't do anything. That stopped us from doing our last dumps."
"Kinniburgh, in conversation, yes, there was a gap there. I didn't want it to occur, but it did," said Munshaw, who added he didn't know when he called in ESRD that it would take so long for them to arrive. "I did not expect (their late arrival)," he said. "(ESRD) are usually on-scene within 15 minutes."
Another concern expressed by Stimson was what the cost for calling in ESRD might be, as it was an unusual decision many in the area would be unfamiliar with. However, Munshaw stated there is a minimum threshold for the costs incurred, and the Aug. 13 fire did not meet those minimums to incur additional charges.
"I already have an e-mail back," he said. "There is no bill coming from ESRD."
Safety first
Munshaw said the most important part of any dangerous situation is making sure volunteers are safe from injury. He said the Aug. 13 fire had several dangerous aspects to it which made it impossible to attack the blaze head on, as some suggested they do. Stimson and Loewen said they were aware of the difficulty in fighting the blaze.
"One thing we don't take into consideration is all the smoke and stuff, the fire department might look at it a little more," said Loewen. "To not put their people in so much danger and just let the grass burn."
He added the fire was spreading at a rate of about 100 feet per minute, making it impossible to safely deploy fire fighters in the path of it.
"Let's look at the reality of it," Munshaw said. "Are you putting someone in front of that fire, when it moves at that speed in five minutes? We're going to do our best to try and control it."
Jumping the highway
There has also been some criticism over the decision by the fire department not to soak the ditches along the road, which Stimson and others said is a primary reason the fire was able to jump Hwy. 864 and catch in M.D. grazing land, where it raced toward petroleum developments in the area before being stopped by local farmer Roy Brewin, who was cutting fire lines with his tractor during the event.
"It should have never crossed the coulee, and it should have never jumped the road," Stimson said. They were called in plenty of time. They should have been able to stop it."
The speed of the fire rendered the strategy of soaking the ditches along the road useless, according to Munshaw, who said at points the fire jumped as much as 300 metres over till lines to start up in a new area.
"Soaking a ditch and watching a 300 metre jump, you pick your thoughts on that one," he said.
He added it is easier to armchair quarterback a fire after the fact, when in the heat of the moment, decisions have to be made on the fly.
"I look at the size of the fire and how fast it grew, I think we had a substantial attack on the fire," he said.
Grateful for the help
Stimson said he was extremely grateful for all the help he received from neighbours and local Hutterian Brethren, and was apologetic about having caused a dangerous event to occur.
"Our apologies for putting lives in danger, fighting a fire under these circumstances," he said.
"If it wasn't for the help of our neighbours, that fire would still be burning," he added.
Stimson added he has been reluctant to criticize the actions of any emergency responders because they came out and ensure nobody was hurt during the event, and their jobs are important to the safety of local residents.
"They did come out to my place. I started the fire, and ultimately I'm responsible for it. I don't want to blast safety services for doing their job and coming out here only to be badmouthed by me. It's just the facts that procedures weren't followed, and it was probably twice as big as it should have been."
"Nobody ended up getting hurt," he added. "What about next time?"
"We try to do our very best," said Munshaw. "We try to bring in everything we possibly can."
M.D. Reeve Brian Brewin said council will be looking at the issue closely to see if improvements need to be made in fire service delivery.
"We're definitely going to sit down and have a talk and see how we can do it better," he said. "The more support we can get, so much the better. We need our volunteers."