M.D. of Taber Shooting Complex holds open house
Posted on August 20, 2014 by By J.W. Schnarr jwschnarr@tabertimes.com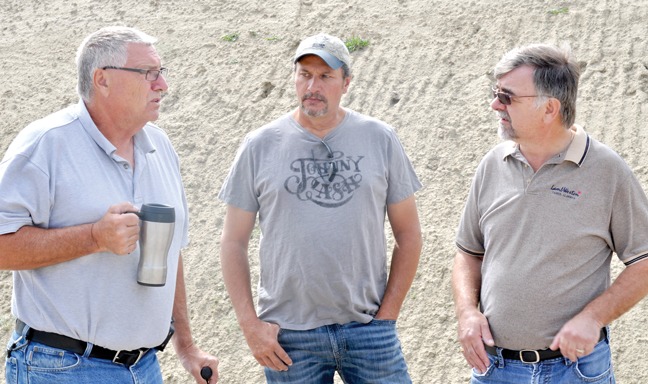 It was an opportunity for local residents to come out and see for themselves all the work that has been put into the new Municipal District of Taber Shooting Complex.
Last Saturday, the Taber Shooting Foundation held an open house at the complex and invited local residents to stop by, check out the shooting ranges, with an option to fill out a membership.
The complex is located on Highway 864 just north of the motorsport complex, an area made up of mostly fields.
Municipal Administrator Derrick Krizsan said there will be a safe area around the complex which will limit the amount of development in the future.
Krizsan also spoke about drainage for the area, which has been designed to funnel moisture into a water hazard located at the motorsport complex.
"It's all sloped and all drains to the motorcycle club pond," he said. "They need water. It's a win-win for both clubs."
"They did a really nice job," said Barnwell Councilor Darrell Turner. "It's beautiful landscaping."
A number of ranges will be available for use in the complex once fully completed in 2015, including 600 metre, 200 metre, and 50 metre ranges, as well as trap facilities, a spot for cowboy action shooting, and pistol ranges.
Taber town councilor Jack Brewin said he was impressed with the work on the complex, saying it would be a draw for people outside the community.
"Anything that draws people into our area, that's important," he said.
"This is an economic boon to the whole region," said M.D. Division 4 Coun. Ben Elfring.
"A lot of people had a dream about making a place like this for a long time," he added. "The problem was finding an area that worked for everyone."
M.D. Coun. Bob Wallace said the project was a way for the M.D. to train their staff on using every piece of M.D.-owned equipment involved in its construction, which kept crews busy during their non-peak times. In this way, creation of the complex served as a double role.
"Until you come out here and take a look, you don't realize how much work they've done," he said.
For more information on the Taber Shooting Complex, please visit http://www.tabershootingfoundation.com.