Firefighters put twist on social media event
Posted on August 20, 2014 by By J.W. Schnarr jwschnarr@tabertimes.com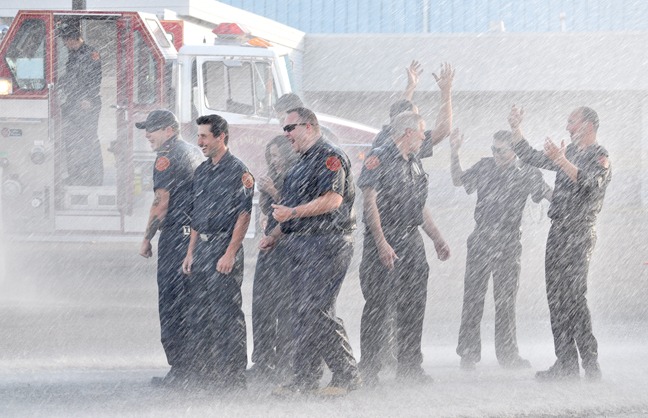 A group of Taber firefighters had a chance to see life on the other side of the fire hose as part of a viral challenge to raise funds and food for a local charity.
When all was said and done, the Taber Emergency Services fire department had raised $1,750 and added 191 pounds of groceries to the Taber and District Food Bank shelves.
It's called a "Coldwater Challenge", a variation on the viral fundraiser for ALS (known as the Icewater Challenge) currently making the rounds through social media. The Taber fire department accepted the challenge to raise as much money and food as possible in 96 hours (they did it in 48 hours) for a local charity. In this case, it was the Taber and District Food Bank. The payoff for the firefighters — being doused with 3,000 gallons of ice-cold water from three fire trucks for the entertainment of those in attendance — was well worth it, according to Taber fire chief Steve Munshaw.
"The event was amazing," he said. "For the town to come together just to spray down some firefighters … to raise that much money and bring that much food in, it really shows how dedicated this community is."
The challenge was laid down to Taber as well as Vulcan by the Crowsnest Pass Fire and Rescue Department, Munshaw's previous posting before coming to Taber five weeks ago. In order to keep the fundraising going, Munshaw has since challenged the fire departments in Kimberly, B.C., and Medicine Hat to tackle challenges of their own by dunking their chiefs.
Munshaw said he was amazed at how the town and firefighters were able to put the challenge together on such short notice. Due to scheduling issues, Munshaw said they were only able to fundraise and organize the event for 48 hours instead of the 96 hours issued. He added his department and local residents really went above and beyond the call of duty for a worthy cause.
"We were happy to do it for the food bank, and happy to support them," he said.