Local author pens children's series
Posted on August 12, 2014 by Taber Times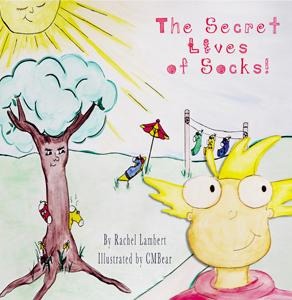 It is a loss we have all suffered through our domestic duties.
Bringing that laundry basket full of the bounty left from our dryer, there is always that one sock you swear you put in with its pair, but for some reason has now vanished … leaving a graveyard of mismatched single socks in its wake.
That was the driving force behind Vauxhallite Rachel Lambert's first published children's book, "The Secret Lives of Socks."
"I've always had an interest in creative writing. I went to journalism school (1999 graduate) and that took a lot of creativity, so I've always been interested in it, but never had the chance to do it," said Lambert of the first seeds that were planted that eventually grew into not only one children's book —but three.
Lambert's husband, Kevin, who is currently a constable for the Taber/Vauxhall RCMP detachment, previously had a posting in an isolated area in northern Saskatchewan which gave her time to write the book.
"I've been sitting on it for about four years now and I have three of them written," said Lambert.
Rachel's son Mathew was four years old at the time when she wrote 'The Secret Lives of Socks.' She said the same phrase many mothers say in frustration in sorting their laundry of 'where do old socks go? Do they get up and walk away?'
"He took it literally. From there, I thought it was interesting to see how children interpret what we say like 'were you born in a barn?' or 'money doesn't grow on trees,' so all my books are based on the quirky phrases we say and how a child interprets them," said Lambert, who also has a son Ryan who was a baby when she started writing.
'The Secret Lives of Socks' involves a child overhearing his mother do laundry and saying the phrase 'where do all these socks go?' The child imagines the socks escaping in the middle of the night and going off on a big journey with other pieces of laundry giving the socks directions along the way.
"And it shows what their world is like with somersault parades and a sock disc jockey and sockey hockey … stuff like that," said Lambert. "(The child) wants to sneak downstairs in the middle of the night, but he's too afraid, so he waits and asks his mom."
Children's books are close to the Lambert family's heart as the family unit encourages a couple of books for nighttime reading each day. Family favourties have been offerings like 'The Scaredy Squirrel,' or 'Aliens Love Underpants.'
"My book is sort of along those lines being satirical and funny for adults. Those were the types of books I liked reading to them so when I wrote this, I wanted it to have the same feel," said Lambert.
When not publishing children's books, Lambert also has a photography and web design business. Her sister Christine is an abstract artist based out of southern Ontario and provided the artwork for 'The Secret Lives of Socks.'
"I didn't really know how I was going to go about publishing or where I was going to get the illustrations from, but I thought I've done so much work for her with web design and things like that, I thought she could pay it back," said Lambert with a chuckle.
For now, Lambert is going to see how 'The Secret Lives of Socks' fares among the public before deciding to release her other two children's books for publication. Just in its initial media release since late July, Lambert confirmed in the interview she has already sold over 40 copies of 'The Secret Lives of Socks.'
"I'm going to see how this one does, but the next one I'm going to publish will be 'The Money Orchid' and after that I don't have a title for the last one yet," said Lambert. "I've found the process entertaining.
"They are short and they are funny, reworking them changes a few words here and there, but the concepts remained the same since the beginning. I quite enjoyed the process."
For more information on the children's book or if you would like to purchase a copy of 'The Secret Lives of Socks' you can visit http://www.rachellambertbooks.com for the necessary links.
The book is available in paperback and Kindle edition and retails for $12.50 Canadian. The book is geared for children between three to 10 years old and is a full-colour, 31-page short verse picture book.