Reading program heating up
Posted on July 24, 2014 by Taber Times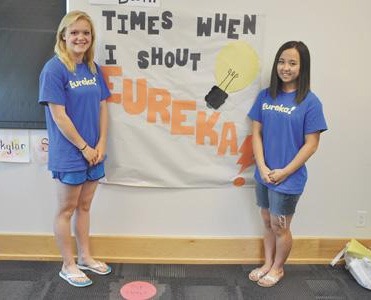 As the dog days of summer shine down on southern Alberta, the Taber Public Library's summer reading program is underway to help children keep up their skills in anticipation of another school year.
This year's overarching theme is Eureka, synonymous with discovery and understanding.
"Eureka is a cry of joy or satisfaction when one finds or discovers something, so our theme is basically discovery and celebration," said Skylar Miyanaga, who along with Sonja Waeckerlin, makes up this year's team of summer reading program co-ordinators.
This year's program commenced on July 8, and will conclude on Aug. 15.
"We're still accepting," said Waeckerlin. "So far we have 100 registrants, but usually around 40 show up (each day). And it varies who comes when."
The program is free, and runs from 2-4 p.m. at the Taber Public Library, from Tuesday to Saturday. The program accepts children between the ages of 6 and 12."Every day, we do a craft, and we do games," said Miyanaga.
"Every week we have a different theme, and we try to relate our crafts and things to the theme of the week."
Reading is obviously a focus for the program, and children get a chance to read every day.
"We read a book every day to them, except on Wednesdays, they bring their own book and silently read," said Waeckerlin. "We relate it to our theme each week, so this week (last week) we read space books."
Both summer reading program co-ordinators started in late June. Miyanaga, 16, is currently a W.R. Myers High School student, while Waeckerlin, 18, recently graduated from the same school.
Waeckerlin admits that sometimes there can be a lot of children to deal with on a daily basis, but noted the program does have access to volunteer support if needed.
"Sometimes it's been a lot of kids to control with two people, but we have volunteer lists that we can have people come in."
While the changing face of library service is placing less emphasis on actual printed books and more on services and programming, Miyanaga pointed out maintaining a strong grasp of the written word for children is still vital.
"We've talked about it. We'd like to continue their education so they don't lose their reading and writing throughout the summer, between school years."
Waeckerlin indicated the real key to promoting lifelong reading for children is to add an element of entertainment.
"We're also trying to make it fun for them, so they want to read, to show them that it can be exciting."
Children even get the chance to win prizes if their summer reading record is meritorious.
"We have reading journals, so they have to record," said Miyanaga. "It's not like a contest, but more a reward system. If they read, they get stickers and prizes."