Terrance Simien and the Zydeco Experience kick off summer season
Posted on July 2, 2014 by Jim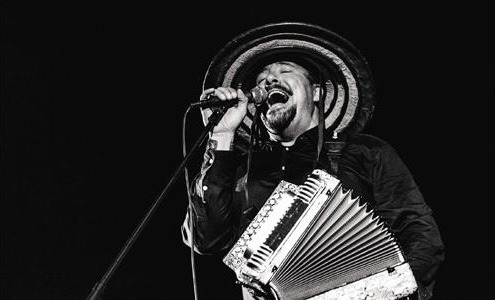 Last month kicked off the inaugural show of the season for Blues at the Bow in Bow Island, and crowd favourites Terrance Simien and the Zydeco Experience didn't disappoint a sell-out crowd on June 14.
Hailing from Lafayette, La., this was Simien's fifth appearance at Blues at the Bow, which is located in the historic Bow Theatre, a down-home club in the tradition of juke joints of old. Cranking out rocking live blues, Blues at the Bow has garnered the reputation of being a listener's venue, and is celebrating 20 years of great music in 2014.
Zydeco is a musical genre which evolved in southwest Louisiana by French Creole speakers which blends Cajun music, blues and rhythm and blues. Usually fast tempo and dominated by the button or piano accordion and a form of a washboard known as a "rub-board," "scrub-board," "wash-board," or frottoir, zydeco music was originally created at house dances, where families and friends gathered for socializing. As a result, the music integrated waltz, shuffles, two-steps, blues, rock and roll, and other dance music forms of the era. Today, zydeco integrates genres such as R&B, soul, brass band, reggae, hip hop, ska, rock, Afro-Caribbean and other styles, in addition to the traditional forms.
Well known and respected artists, Terrance Simien and the Zydeco Experience won a Grammy award for Best Zydeco or Cajun Music Album for their 2007 album Live! Worldwide. Simien and his band mates have performed over 7000 concerts, touring millions of miles to over 45 countries during their eventful career.
Playing a lively two-set show spanning more than three hours, Simien ushered in the Louisiana-style party atmosphere with no delay, handing out string upon string of party beads to enthusiastic fans and listeners alike. Utilizing a dizzying array of accordians for each new piece, Simien is the main vocalist for the six-man band.
Following up this impressive performance will be blues keyboardist David Vest returning to the Bow with a brand new CD including a song about his last trip to Bow Island, and will be accompanied by three members of the Downchild Blues Band.
A Maple Blues Award winner who now lives in Canada, David Vest is an authentic, Southern-bred boogie-woogie piano player, blues shouter and world-class entertainer. His first Canadian recording, East Meets Vest, was named one of the best blues albums of 2012 by Holger Petersen of CBC's Saturday Night Blues and earned a Maple nomination for Recording of the Year.
In 2014, newly signed to Cordova Bay Records, he will be touring widely to promote his highly-anticipated new release, Roadhouse Revelation.
Vest will be playing July 26 at Blues at the Bow.
Tickets are available online at http://www.bluesatthebow.com.