Lucerne plant closing down after 59 years
Posted on July 2, 2014 by Taber Times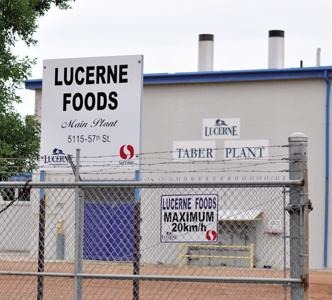 A major food processing plant in Taber will be shuttering its doors for good on Aug. 29, leaving 38 full-time employees without a job.
Taber's Lucerne processing plant, known as the Taber Juice and Dry Grocery Plant (located at 5115 57th Street) has been in operation in the community since 1955. The announcement was made to employees at 2 p.m. on June 24.
"This is a decision of course that has been under consideration for a number of years," said Betty Kellsey, public affairs spokesperson for Safeway Operations and Lucerne.
"The plant has been operating well under capacity for many years, and unfortunately the decision was made that due to that we just had to make this difficult decision to close the plant."
An industrial fixture in the area for almost six decades, the Lucerne processing facility was involved in a variety of food processing activities.
"Within that facility we actually process and re-package spices, juice, as well as some of our dry grocery items," said Kellsey, who noted overall production levels have shown a steady decline at the 112,409 square foot facility.
"It does fluctuate, but I can tell you that we've been examining it for a number of years, and it operates well under capacity."
Kellsey indicated the move will not impact Lucerne's Lethbridge operations, which remain a viable part of the corporation's business plans moving forward.
"This is a stand-alone decision for Taber. Certainly, we look at each facility individually, and of course each facility has to stand alone as being financially viable. So I can tell you that the remaining plants in our network remain viable and productive assets, so at this stage there's no plan to close."
Currently there is no opportunity for Taber-based Lucerne employees to transition into potentially available positions at Lucerne's Lethbridge operations.
"This was really a Taber-specific decision based on the capacity of the plant and where it has been operating for a number of years. With Lethbridge, at this stage that plant is vibrant and viable," said Kellsey, commenting that Taber employees would be unable to transition to positions in Lucerne's Lethbridge operations. "Not at this time, because there's no positions currently open in the Lethbridge plant. We did look at that as well, but at this time there's no open positions in Lethbridge."
Kellsey couldn't report on Lucerne's future plans for disposal of its assets in Taber, and what could potentially become of the 59-year-old facility once its doors are sealed permanently on Aug. 29.
"For this week (June 23-27), obviously our top priority was communicating this to the employees and working with them to really ensure that they're comfortable with the plans. We're working also with the union — the International Union of Operating Engineers (Local No. 955) — just regarding the collective agreement and what that will look like for them as it relates to the facility closure. We really can't discuss the future of our real estate assets at this point in time."
According to the facility closure language (Article 22) in the collective agreement between Lucerne Foods and the International Union of Operating Engineers (Local No. 955), regular full-time employees with one or more year's service will be entitled to one week's severance pay for each year of continuous full-time service, to a maximum of 15 weeks of pay.
Kellsey was unable to comment further on the severence that would be provided to former employees.
"I really can't, because it varies depending on their years of service and their position within. We'll be working directly over the next couple of weeks with the union — of course in full cooperation with the collective agreement and what's there. These decisions are always really, really difficult to make. It was certainly one that was very hard to communicate to employees, but we'll work through it, and we'll do our very best to take care of them."