Taber Times loses one of its newspaper family
Posted on June 11, 2014 by Taber Times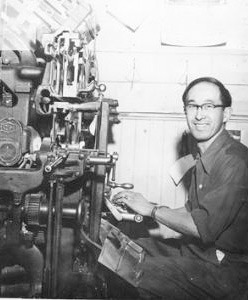 Southern Alberta lost a newspaper icon over the weekend as former Taber Times co-owner Walter Koyanagi passed away peacefully at the age of 93.
Co-owning the Times along with partner George Meyer from 1970-1987, Koyanagi helped put the Taber Times in some rare company as a newspaper well past its 100th birthday as the paper continues to publish today.
The dynamic duo would go on to buy the Sunny South News in the mid-70s and in 1978 founded the Vauxhall Advance before selling in 1989.
"I could never have found a more dedicated, experienced and loyal partner than Walter Koyanagi. Our 21 years together at The Taber Times proved to be a success for both of us. It also brought enjoyment and fellowship to both our families, for Walt and Kiyo (wife) were like a part of our family," said Meyer.
Koyanagi's arrival in the Taber area did not arrive without some controversy. Born just outside of Vancouver, despite his Canadian birth, he like most others of Japanese descent were declared an 'enemy alien' immediately following the bombing of Pearl Harbour in 1941.
In 1942, Koyanagi and his family worked in southern Alberta sugar beet fields during the war. For a good part of 1942, the Taber Times, the paper Koyanagi would be part owner of a mere quarter century later, ran numerous editorials and articles strongly opposing the relocation of these Japanese enemy aliens to the Taber area.
Ironically enough, Koyanagi got a job at the Taber Times in 1950, working for Arthur Avery, the same man who had demonized the Japanese with his wartime editorials.
Taber was always close to Koyanagi's heart as the town served as his retirement base up until his death as he traveled the world.
"Like in all small-town newspapers, I did everything that needed to get done," said Koyanagi in an interview for the book 'Alberta's Weekly Newspapers: Writing the First Draft of History,' published back in 2012. "I worked in the back shop, running the Linotype and as an all around handy man and printer, I worked in the front as an accountant. I did everything you could think of."
In 1966, Avery sold the paper to Meyer, a Bow Island native. Meyer's and Koyanagi's eventual business partnership came at an exciting time in newspapers in switching the paper from a sheet-fed offset press with a new web offset press, the first Alberta newspaper south of Calgary to do so. Because of the change, the Taber Times began printing other newspapers, and over time, were printing almost every community newspaper in southern Alberta.
Coleen Campbell, publisher and general manager for The Taber Times and Vauxhall Advance, first started at the Times in 1975. She remembers a man that while quiet and reserved, his dedication to the newspaper industry was unparalleled with his work ethic.
"He was one of the best mentors I ever had. He taught me principles I use today and hope to pass onto other people. They are the types of principles that will aid you in every aspect to life whether it be business or any other relationship. He was very hands on with the production and business side as well," said Campbell. " Walter, along with George, was my mentor ever since the day I walked into The Times office almost 39 years ago. I owe him and thank him for sharing his knowledge and love of the industry. He taught me everything I needed to know to make intelligent decisions about running the business. But most of all I thank him for having the faith in me to take over once he retired."
Val Wiebe, assistant manager of the Taber Times and Vauxhall Advance echoed Campbell's loving sentiments as both attended Koyanagi's funeral on Tuesday. Walter Koyanagi was presented with the Canadian Community Newspaper Association's Silver Quill in 1980 for his dedication and contribution to the newspaper industry for the past 25 years.
"Walter hired me more than 30 years ago, giving me the privilege of having him as a mentor. In spite of being a successful businessman he was a humble, kind man who led by example. Through his integrity and knowledge he was one of the best role models in the business."