Community garden vandalized
Posted on June 4, 2014 by Taber Times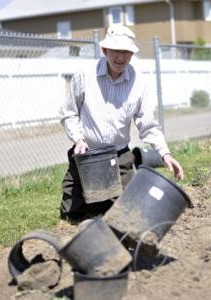 TIMES FILE PHOTO
An attempt to beautify the town by caring volunteers has turned ugly thanks to a careless attack by vandals early this week to the Community Gardens initiative.
"They pulled out all the tomato plants, all the petunia plants and scattered them all around," said a bewildered Ray Sheen, head of the Community Garden initiative for the Town of Taber which is located near Taber Christian Alternative School.
"We had 28 markers showing what was growing in each row and they pulled all those out."
Attempting to do something good for the community, as several volunteers have put hours upon hours of their green thumb skills to beautify the area with the community gardens, the efforts have come undone thanks to the thoughtless actions of one or more vandals thought to have caused the damage overnight on Sunday.
"They've had some vandalism here in recent days with some broken windows here in the school and I'm guessing it's the same guys or girls or whatever," said Sheen. "People have been babying this garden along, it's taken a lot of work. We had great hopes for this year and we still do. We will replant some things, it's not the end of the world."