Clearview Lodge turns 50
Posted on May 27, 2014 by Taber Times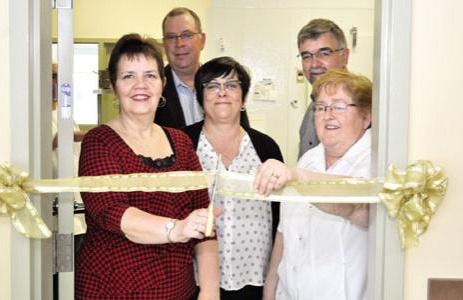 Taber's Clearview Lodge turned 50 this year, and boy, does she look great for her age.
Last Friday, the senior's residence celebrated the 50th anniversary of when it first opened its doors with the official recognition of a brand new kitchen. It was an afternoon filled with food and entertainment as local politicians and members of the Taber and District Housing Authority spoke on the importance of having a welcome place seniors can call home.
"I hope (this new kitchen) will be an asset to the quality of your life," said Taber mayor Henk DeVleiger. "Congratulations on your 50th anniversary."
"Clearview Lodge has always had a special place in my heart," said Brian Brewin, Reeve for the Municipal District of Taber. He added the facility was important to residents of the M.D. who come in off the farm to live at the lodge.
"I'm looking forward to the next 50 years," he added.
Scott Garner, president of Southern Homes, talked about growing up around the lodge as a boy and what it has meant to him over the years.
"Ever since Clearview Lodge has opened, it's been an anchor in the community," he said.
"It's the perfect setting for your 50th anniversary," he added.
Following a succession of speeches and presentations, residents and visitors were treated to an afternoon of snacks and music, and an official ribbon cutting for the new kitchen by TDH board members as well as the TDH chief administrative officer Deb Zaluski.
Zaluski said she was impressed with the turnout and atmosphere of the event.
"I think it turned out fabulous," she said. "We had an excellent turnout. It went exactly as we hoped."
Zaluski said the kitchen has been open for a few months before the official ribbon cutting ceremony, and said it has had an immediate positive effect on the residents.
"We're able to prepare food even more efficiently," she said. "Before, the kitchen was so small that it was hard to get as much food prepared as we needed to."
Zaluski noted the lodge kitchen handles Taber's Meals on Wheels program as well as meal packages for seniors outside the Meals on Wheels program for seniors in the community or some of the homes around the lodge. With a new, larger kitchen, she said they can look at expanding those programs. Additionally, the larger kitchen would be able to provide increased service should the lodge carry out any future expansion plans.
"When we have more capacity of residents we'll be able to put more food on the table," she said.
Zaluski said the lodge is an important part of Taber for both the number of residents who have come through the doors over the years, but also their friends and family who have had someone in their lives spend time at the lodge.
"Fifty years is huge," she said. "A lot of us know people who have lived at the lodge when it opened and the years after."
"Hopefully we can continue on for another 50 years," she added. "Maybe I'll live here some day."