Hailed-out garden; hailed-out soul and lessons learned
Posted on August 26, 2020 by Taber Times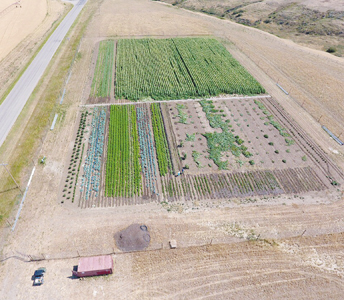 TIMES FILE PHOTO
On June 14, 2020, a devastating hailstorm hit the Vegetable Garden whose purpose it is to provide fresh vegetables to the Food Bank. Last year on Aug. 7, a similar hailstorm pounded the same area destroying vegetables just as we were beginning to harvest them. They did not recover unlike the vegetables this year.
The day after the storm in June as we surveyed the catastrophe, we could see riddled corn stalks, torn tomato plants, blasted new bean plants, shattered tomato and pepper cages and executed raspberry plants down to a foot above the ground. The garden would never recover, we imagined. But before we plowed all of it under and save ourselves an entire season of lost hope, sweat and aches from manual labour and renewed expenses, we decided to give it another chance.
Shortly after, the miracle began to happen. Tiny twigs with baby leaves on tomato plants started to grow. Revived beets, carrots, cabbages and numerous other vegetables emerged from an icy grave. Raspberry plants added new growth to broken canes and twisted branches.
From a kind Heaven, the heat began, the sun shone bright and timely rains excited the sleepy roots. Now, if strangers were to walk onto the garden and didn't know that eight weeks earlier where death languished everywhere, they would see nine-foot sunflower plants, tomato bushes filled with blossoms, beets, carrots, beans, onions, Swiss chard, lettuce, zucchini, corn to be harvested and raspberries ready to produce in September.
How often in our lives do we feel pummelled, shattered, riddled with hearts broken, hopes vanished, dreams unfulfilled and future plans crumpled. We can learn inspired lessons from a hailed-out garden.
We hang on. We pick up our hoe of faith, sharpen it, clean it off and tackle the weeds once more. We water our good desires. We fertilize with energy our mind and soul. We close our ears to those who say, "You might as well give up. There is no use in going on. You're a loser, anyway.
Admit it!"
But we don't heed such destroyers. We know that there is a power higher than ours. The sun of life still shines in our sky. The water of hope and relief drop their dews of silent courage to urge us to plead to Heaven for help from the infinite source of all help.
And then in some future day a stranger may say, "My, what a magnificent specimen of a soul: so good, so wise, so full of joy and sound judgment, so humble and full of compassion and empathy." And we in modesty and gratitude say within us, "It wasn't me that framed me, but the application of all sound truth that did it."
There were hard and painful times, but with God's help we are making it. We beat down our addictions. When we offended others we confessed and made friends. We made mistakes and learned from them. We stumbled sometimes, but we straightened our back and pulled our plow forward.
Yes, we were hailed-out – sometimes often, but we did not give up. We want to become a garden to be walked in and to help renew life and inspire dreams among our fellow men.
Ray Sheen