A late letter written in remembrance of a great man
Posted on April 1, 2020 by Taber Times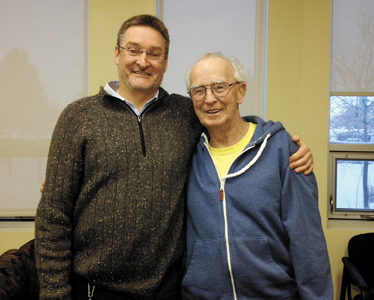 TIMES PHOTO SUBMITTED
At the beginning of this school year a conversation started about Brother Baudoin. It was a conversation filled with great memories of an incredible person. My wife said to me, "you should write Brother a letter and let him know the impact that he had on you over the years."
I gave myself an email reminder to write this letter. I never wrote it. I would see the reminder and then this would come up or that would come up and I never wrote it. I did not let Brother know of the profound impact he had on me over the course of my life.
My first encounter with Brother was as a Grade 6 student not even at St. Mary's School yet. Brother asked if a couple friends and myself wanted to get into the St. Mary's gym and play some basketball and badminton. "YES" was immediately the answer. We had heard of this Brother Baudoin from our older siblings and looked forward to meeting him. From this point on, Brother spent countless hours coaching us and teaching us. He instilled in us a passion and commitment for learning and a passion, commitment and work ethic in athletics. Brother became an important part of our lives. He pushed us hard to be the best academic students we could and then he would take us skiing, golfing and biking. We couldn't keep up with him in any of the sports but he so patiently helped us improve in all of them. He was too generous with his time he invested in us. He even started opening the gym up for us on Saturday mornings for more court time. He seemed to be there for us 24-7. 
As I got into high school I began to think of a future. For years I witnessed the passion and joy this man had in the teaching profession. It was at this time that I began thinking of being a teacher. It was seeing the impact Brother had on so many young people that drew me to teaching. If I could make a fraction of a difference in the life of a youth I would not even be close to the impact that Brother had on so many.
After graduating from SMS, I completed an Education degree and made my way back to SMS and ended up getting an opportunity to work side by side with my mentor. It was an awesome experience and it was Brother who accepted me and supported me as a colleague. I was in awe.
As I wind down my career in education I do so with a regret. That regret is in not writing the letter to Brother and letting him know how much he meant to me both as a teacher, a coach, a mentor and a friend. I encourage everyone to let people know the impact they have had on you before you lose the opportunity.
Brother Baudoin – Thank you!
RANDY SPENRATH