Cautious optimism for pipeline project
Posted on February 12, 2020 by Taber Times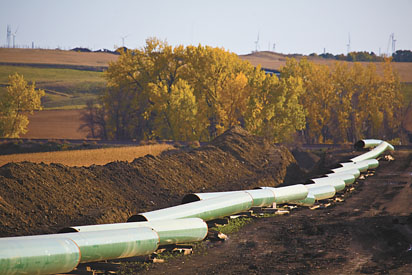 SQUEEKY WHEEL: Projects like the Keystone XL Pipeline are poised to resume barring any further regulatory hurdles. TIMES FILE PHOTO
The latest court victory for the Trans Mountain pipeline expansion means the on-again, off-again project is on again — at least for now.
The Federal Court of Appeal announced last week it had struck down a challenge by several British Columbia First Nations groups, paving the way for construction work to continue. But while proponents welcomed the decision, they have learned to not get too excited over such positive developments because things can change, as they have throughout the Trans Mountain saga.
Alberta Premier Jason Kenney greeted the announcement by noting "it's time to get this pipeline built," but still added that he's not going to celebrate until the project is completed.
The pipeline was supposed to already be delivering oil to the West Coast, based on the original plan. When Kinder Morgan, the project's original owner before selling to the federal government in 2018, applied to the National Energy Board (NEB) in December 2013 to expand the Trans Mountain pipeline, construction was slated to begin in 2017, with the goal of having oil flowing through the expansion by December 2019.
But a series of roadblocks crafted by opponents delayed the project and threatened it altogether until Justin Trudeau's Liberal government took over the expansion, which by that time was on life support.
Last Tuesday's ruling has allowed for "cautious optimism" from Alberta's oilpatch. In a CBC News story, consultant Greg Stringham said of the ruling: "This is probably the next to last step to allow this pipeline to go ahead and to get built and really, now, for the first time, allow Canadian oil access to the global oil market rather than just going into the United States."
But, as University of Calgary economist Kent Fellows said in a Calgary Herald story, "The industry has thought it's been this close before and of course the rug has been pulled out from underneath their feet… I don't think anyone in Calgary's going to be popping champagne corks until you get first oil through the line."
It's not clear sailing for the pipeline project. The B.C. First Nations groups who had their challenge dismissed still have 60 days to appeal to the Supreme Court of Canada.
Even failing that option, opponents aren't likely to give up easily. Squamish Nation council member Khelsilem said in a Canadian Press story, "B.C. has a long history of civil disobedience."
But, for now, the project is a go and construction will continue.
The first lengths of pipe were laid in December in Alberta, and by the time the expansion is completed — if it is completed — it will cover almost 1,147 kilometres and expand capacity from about 300,000 barrels of oil per day to 890,000 bpd.
As the pipeline's proponents have been pointing out, it's an important project not only for Alberta, but for Canada.
The Government of Canada website notes, "The project is estimated to generate $73 billion in increased revenues for producers over 20 years. Government revenues, meanwhile, are expected to increase by $46 billion over the course of the project's construction and the first 20 years of operation.
This includes an estimated: $5.7 billion for B.C.; $19.4 billion for Alberta; and $21.6 billion for the rest of Canada. TMX will also help strengthen Canada's advantage as a secure and stable global supplier of oil – now and in the future – while generating the revenues to fund its transition to a low-carbon future."
Whether those benefits will be realized depends on the project avoiding further roadblocks and staying on track.
That remains to be seen and supporters of the pipeline expansion can be forgiven if they restrain their celebration of last week's court victory. In the Trans Mountain pipeline saga, victory is sometimes only temporary.