We shall remember them…using many new, different ways
Posted on November 13, 2019 by Taber Times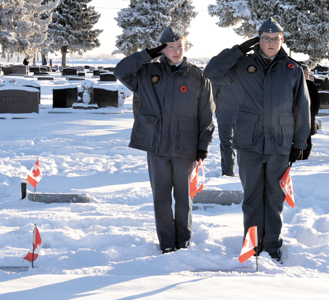 WARM HEARTS: Cpl. Bryden O'Connor and FSgt. Aidan Richardson salute after putting Canadian flags on the graves of World War veterans at the Taber Cemetery during the Veterans Flag Ceremony. TIMES PHOTO BY GREG PRICE
When Canadian physician Lt.-Col. John McCrae wrote "In Flanders Fields" he couldn't have dreamed what significance the poppy would become, or even how it is used in helping Canadians remember and honour fallen soldiers or pay tribute to those who live in our communities.
In these times of global unrest, the message of what these brave young women and men did to help maintain Canada's freedom in its infancy, should resonate with young people.
The Royal Canadian Legion has always been a proud organization with extremely traditional values. Initially formed and incorporated by a special act of Parliament in 1925, it was officially Chartered in 1926, to "provide a strong voice for First World War veterans." The Canadian Legion of the British Empire Service League was organized. It later provided additional services for Second World War vets. In 1960, the Queen allowed the organization to change their name to the Royal Canadian Legion.
The Legion's staple value of connecting veterans to the general public has traditionally been with the youth poster, story and poem writing contests; the teaching aides given to schools as well as the Legion's contributions to school and community celebrations prior to the traditional cenotaph and memorial services. They also will take deserving students overseas to visit significant Canadian war sites in such countries as the Netherlands and France.
Local Legion branches also consistently donate financially to various programs or projects for the betterment of their communities.
Even with the current major disenchantment with the federal government and the dust storms regarding transfer payments and the handling of various energy sectors, there has always been a strong bonding nationalism regarding veterans, no matter what part of the country. The support of the Legion has always been there. The White Poppy Campaign, which began around 2010 by the Canadian Voice of Women for Peace as a protest in support of peace and indictment of war, never really took off.
Give the Legion credit, in recent years they have a new fresher approach with getting their message out.
The Legion has updated website and they are marketing itself like a business. Yes, they want to make money to keep the organization financial sustainable, but they have to do it in such a manner as people will buy in.
Some may deem these new ways as glorifying war or being disrespectful of the solemnness and sanctity of what kind of hell these veterans went through in whatever war, conflict or dangerous peacekeeping missions Canadian soldiers participated in. However, the organization is staying true to promoting veterans' histories, advocacy for those veterans' families and the well being of today's soldiers.
In order to reach and maintain the audience of Gen-Xers and younger, they have to speak their language and keep up with the current methods of promotion.
Couple with traditional advertising like in newspapers, there are "Digital Poppy Badges" and shared Remembrance Day memes on social media to help maintain a presence.
The Legion also has a digital merchandise store where people can buy poppy and Canadian military-themed merchandise. Items ranging from umbrellas, wallets, summer and winter clothing, ball caps, jewelry, commemorative pins of the Tomb of the Unknown Soldier, backpacks, and poppy-shaped bird feeders, are but some of the Legion "swag" which can be purchased.
Legions in rural communities have undoubtedly taken a hit in numbers as populations have dwindled in smaller towns.
This is where the new marketing combined with the traditional ideals will be of benefit. There are 260,000 members in around 1,400 branches across Canada.
A new generation needs to take up the torch and hold it high. They just have to be given the information, the importance of the tradition, but they can do it in their own way, wearing a poppy golf shirt and ball cap.