Monday's Remembrance Day is one that won't be forgotten
Posted on November 13, 2019 by Taber Times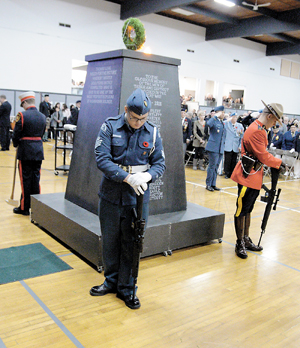 TIMES PHOTO BY GREG PRICE
November 11, 2019 will be a Remembrance Day I personally will never forget.
I have attended many, many Remembrance Day services over the years.
This year I arrived at the community centre, and of course the place was packed.
I was standing in the entrance lobby and a young girl came up to me and offered her seat downstairs for me to enjoy the service. I sat down.
During the service I asked Rick Anderson if he knew the girl and he replied, Amy Doucette from Barnwell.
I then asked the young man sitting next to me on my right if he knew the young lady and he replied 'she is my sister.'
I then asked him if he knew me and his answer was no.
I wanted to have a picture taken with her after the service, but it was not possible.
I would like to say thank you Amy for making this Remembrance Day a day I will never forget.
Jean Bullock