Canadians warming to pipelines; poll
Posted on January 23, 2019 by Taber Times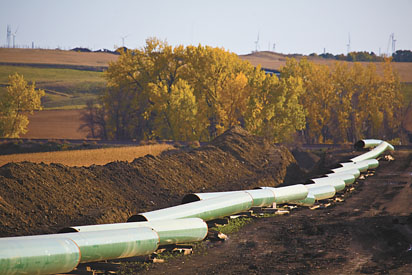 SQUEEKY WHEEL: Projects like the Keystone XL Pipeline are poised to resume barring any further regulatory hurdles. TIMES FILE PHOTO
For years, many Albertans have subscribed to the narrative only they truly understand the immense value to the national economy of the oil and gas industry.
Not without some justification, many of our provincial neighbours, the federal government, and in large part the people that inhabit the territories that surround our borders have often been branded as limp-fisted climate change sympathizers, unswayed by the nuts-and-bolts arguments of common-sense Albertans.
And while meat-and-potato polemics about the vital need for pipeline capacity in Canada might speak volumes to a citizen of Calgary or Edmonton, it probably means something else entirely to those strolling the streets of downtown Montreal or Vancouver.
At least, that's been the prevailing perception in Canada in recent years. However, results of a new survey from the Angus Reid Institute suggest more and more Canadians are developing a better understanding of the oil and gas industry's place in the national economy, as well as what Albertans have been screaming about for months — our economic pain does not exist in a financial vacuum, and the impact of an industry implosion will significantly affect your own bottom lines.
The poll found that nearly six in 10 Canadians define lack of new pipeline capacity as a 'crisis', while a majority of respondents agreed that the oil and gas industry is critical to the national economy.
The results represent a marked departure from past national polls on oil pipelines, an issue which has often seen a lack of interest from Canadians outside Alberta and B.C. in the recent past.
Some 53 per cent voiced support for the Trans Mountain and Energy East pipeline projects. Perhaps critically, the results also show a growing divide between the opinions of younger Canadians (age 18-34) and those from older generations. A majority of younger respondents were not supportive of pipelines, while a majority of those over 35 were.
To be fair, an us-versus-them mentality has never been unappealing to citizens of Western Canada. It's a familiar position to polarize around East versus West and the supposed divide between Ontario's Bay Street elite and the hard-scrabble farmers and oil workers of the West.
But this is a dated oversimplification of reality and the vastly more integrated national economy of the 21st century.
Convincing fellow Canadians that what Albertans are espousing about the industry — and to a certain degree Western Canadians in general — is in the best interests of all sometimes seems like an insurmountable obstacle to the goals we would like to achieve.
And in the past, such a statement would not have been disputed by many on the streets of Red Deer or Fort McMurray. Attempting to drag Canadians kicking and screaming — all the while beating them about the head and arms with facts, statements and strongly-worded opinions — until they surrender to our own viewpoint might seem like the path to take for many, but that's not the way to build national consensus, and employing borderline bully tactics is actually the path of most resistance, and in the end, usually achieves nothing.
But if this poll shows us anything, it should be that by fits and starts, many Canadians outside Alberta are slowly warming to the concept of pipeline projects, and beginning to see that our pain is their pain, if only slightly more indirect than our own. If Alberta ever hopes to complete any future pipeline mega-projects, maintaining a state of open war with fellow provinces and Canadians will not be the way to achieve it.
Instead, winning over hearts and minds — as this poll suggests is now happening — might be the key to future success.