Oil and gas make Christmas happen
Posted on December 26, 2018 by Taber Times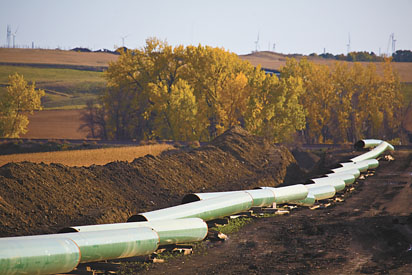 SQUEEKY WHEEL: Projects like the Keystone XL Pipeline are poised to resume barring any further regulatory hurdles. TIMES FILE PHOTO
Dear Editor,
This Christmas, families across Canada exchanged gifts.
Everything from sweaters to cameras, fishing lures to skis, shoes to basketballs, sunglasses to cell phones.
All these gifts have one thing in common: they are made with petroleum products.
They are transported to market with gasoline, diesel and jet fuel.
The only part of their journey not fueled by hydrocarbons is on the back of Santa's sleigh – and I've heard some theories about Rudolph's nose. The miracle of hydrocarbons has made the wishes of countless Canadian children come true.
It has also kept them warm at night while they wait for the magic of Christmas morning.
Oil, gas, and fossil fuels make Christmas happen. You might say that the luckiest child of all is the one who receives a lump of coal in his stocking.
Sincerely,
Martin Shields, MP Bow River