Benches not controversial
Posted on October 3, 2018 by Taber Times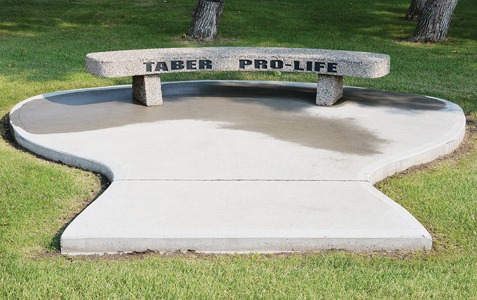 TIMES FILE PHOTO
Sheila Lord says that she was "extremely disappointed to see such a confrontational pro-life resting place" (Sept. 26 Letter to the Editor).
Hi Sheila, yes like you, I too have my parents in this serene Taber Cementary resting place.
And I sit on this bench remembering my parents in their joys, and also their struggles of life in raising us, their children.
And Sheila as you said, that your father was a loving and caring man, and so was mine, as was my mom. Yours and my mom gave birth to us with the support of our Dads, and rather than snuffing out our lives prematurely, they lovingly raised us.
So sitting on this bench we remember those who went before us, and there is a marker on their grave to remember.
So I also think of those who could have been, but have no grave marker, but were aborted in most cases due to much trauma and issues in the lives of moms and dads to be.
And no Sheila, pro-life does not condemn those would have been parents, in fact they have support groups to help them through their trauma.
But for the most part they encourage parents to choose life, as your and my parents did. So this bench, a memorial to those that could have been, should not be controversial to anyone.
HANS VISSER