Trucker training a wise addition
Posted on July 18, 2018 by Taber Times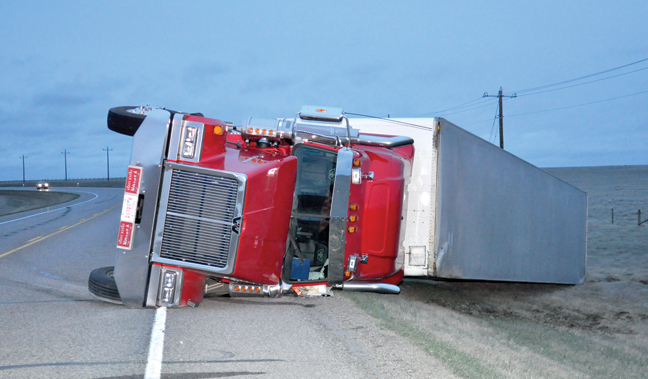 TIMES FILE PHOTO
Alberta's plan to tighten trucking industry regulations and to require mandatory driver training for new commercial truckers as well as bus and school bus drivers should help make roadways a little safer for drivers.
The proposed changes, which Alberta Transportation Minister Brian Mason acknowledged were spurred by the deadly crash involving the Humboldt Broncos hockey team, should fix some of the shortcomings they see that, if left unaddressed, hold the potential to lead to future mishaps.
The province had actually been pondering changes to the commercial trucking industry long before April's crash involving the Humboldt team bus and a semi-truck operated by a Calgary based company, but the crash prompted the province to expedite the timeline.
The changes Alberta is eyeing for driver training would include a mandatory entry-level training course for drivers applying for Class 1 (tractor trailer), Class 2 (bus) and S endorsement (school bus drivers) licences.
Mason said Ontario is the only province that currently requires such training.
Improved driver training would certainly be a good thing for everyone who is on the roads on a daily basis.
Today's roadways are well populated with commercial vehicles and it only makes sense that larger vehicles in particular be handled by drivers who are well trained and well skilled, as most of them are. In fact, truckers are among the best drivers on the roads.
But, it's the inexperienced or improperly trained drivers who are likely to cause problems, and it's those that the province's changes will address.
The province is also making moves to deal with problems with Alberta's driver testing and licensing system that were highlighted in a 2016 consultant's report.
One of the province's targets is so-called "chameleon carriers." 
The currently available 60-day temporary safety licence allows companies to operate while they await a federal safety fitness certificate, and if a certificate application is refused, the company can just re-open under a different name.
Mason said the trend is "a particular problem" in Alberta and he believes eliminating the 60-day temporary certificate will effectively halt that practice.
In addition, the Albertan government proposes to make driver examiners government employees as part of the process to address issues that have been identified. 
"We have complaints every week and there is a complete lack of oversight," Mason said earlier this week.
The province's efforts to improve trucking safety were applauded by organizations like the Alberta Motor Transport Association, the Association of Alberta Registry Agents and the Canadian Trucking Association.
We applaud the moves, too.
If they help make our roads safer, they'll be well worth it.