Team effort in fight against flooding
Posted on May 2, 2018 by Taber Times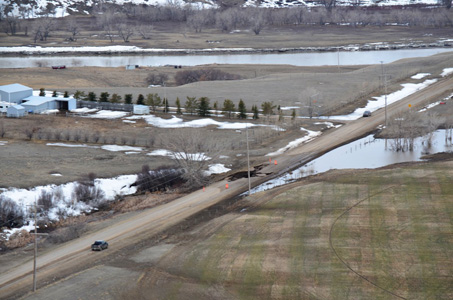 SOIL EROSION: The Town of Taber and M.D. of Taber have worked closely to address regional flooding concerns. TIMES PHOTO SUBMITTED BY THE M.D. OF TABER
As southern Alberta continues to recover from flooding with an unrelenting winter that made its way well into April, it shows just how damaging an uncooperating Mother Nature can be.
It was a perfect storm of weather conditions that have hindered the region, offering little help at critical times.
Runoff and standing water across southern Alberta this spring are not the result of heavier than normal snowfall, but rather a lack of drying chinook winds over the winter and early spring, according to Agriculture Alberta.
In southern Alberta, where some counties were dealing with localized flooding last month, lingering snow was estimated to be at one-in-50-year highs. Separately, Alberta Environment estimates the snow pack is about 45 per cent larger than usual for mid-April.
Millions of dollars in damage is being estimated in the M.D. of Taber, Town of Taber and various irrigation districts, with hundreds upon hundreds of logged concerns to councils.
The area surrounding Enchant seems to be the hardest hit in the region.
Apart from the price tag of destruction, area residents saw 30 per cent of roads within the M.D. of Taber closed at one point causing a chain reaction of delays. Seeding schedules have been delayed, threatening overall yields if another rash of poor weather comes in the next little while, as irrigation season has also been delayed.
But through all the chaos, town and M.D. workers have managed to keep the carnage to a minimum. Concerns with flooding affecting the Town of Taber's water treatment plant were quickly remedied utilizing its Emergency Operations Centre.
The town had residents put their three-bin waste disposal systems out on their front curbs as opposed to the back alleys to avoid further damage to road infrastructure as the alleyways dried out.
M.D. officials are estimating costs could have been tenfold if not for the proactive action of opening up some of its canals and channels in swift fashion.
Co-operation between the town and the M.D., emergency services, irrigation districts, school divisions, farmers, residents etc. showed exactly how many moving pieces were in play in dealing with a disaster that could have been much worse if everyone was not working together.
The Times applauds the quick thinking of all those involved who helped mitigate the power of Mother Nature to a more manageable form.
As both the M.D. and Town of Taber apply for disaster relief funding from the province, here is to hoping they are not penalized for their forward thinking and denied funding.