Pride groups overcome obstacles
Posted on July 5, 2017 by Taber Times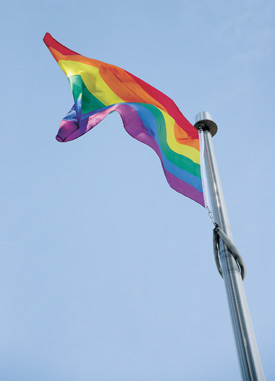 TIMES FILE PHOTO
Years later, many people remember their favourite childhood stories.
Images from "Cinderella", "Jack and the Beanstock", "The Little Engine That Could" – they've captured youngsters' imaginations for many generations.
One of their lasting lessons for young readers is the idea that anything may be possible, difficult as it seems. But it takes energy, patience and determination to reach your distant goal.
"If at first you don't succeed, try, try again," children are advised.
That's clearly the approach being taken by a small group of Taber residents. After approaching town council earlier this year, members were told they couldn't raise their Pride flag in front of Taber's Administration Building.
Then, after further discussion, the Taber Equality Alliance was given permission to use a flagpole in Confederation Park instead.
But that wasn't the group's only challenge. Not long after their flag-raising ceremony earlier this month, they found someone had removed and stolen their flag.
More recently, members were dismayed to find their replacement flag had been torched right there on the flagpole. Police are investigating.
Not to be denied, the group raised a third flag last week – and vowed to keep on flying a Pride flag until the end of the month.
Some would say the whole story has been overblown. But the Taber group's courage and determination has captured the nation's attention. Canadians' right to express their sexual orientation has been established as the law of the land, observers say – and not just in the big cities.
And so Taber's Pride advocates have become a symbol of what a small group of motivated citizens can achieve – whether they're in Taber, in Trois Rivieres or even Toronto. They're a living example of that "little engine that could."
Obviously, winning equal rights for a community's lesbian, gay, bisexual and transgendered citizens is not Canada's only important human rights challenge.
In Lethbridge, Pride flag-raising ceremonies have become a tradition. Colourful crosswalks, not so much. Canada needs the courage and determination of ordinary citizens who understand the issues and work steadily for their resolution. People like the TEA group in Taber.
And they'll need patience. None of our human rights victories over the years – womens' sufferage, civil rights in the U.S. and Canada, equal pay – came without setbacks and opposition. Some people are afraid of change.
But Canadians who feel called to bring change, to work for fairness and equality, can remember that little engine. The only way you conquer that hill is to keep on going, using all your resources to reach the summit . . . sooner or later.
And then? There's always another hill to challenge.