Forward thinking with firefighter program
Posted on May 24, 2017 by Taber Times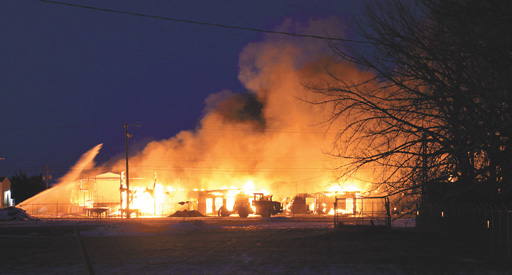 TIMES FILE PHOTO
With the Municipal District of Taber unveiling its junior firefighter program earlier this month, it is a bold and innovative move for a fire service still talking its baby steps in its infancy.
A youth will be eligible for the program if they are between 16-18 years of age and are a resident of a M.D. of Taber Regional Fire Department or Vauxhall Regional Fire Department response area. They must be of good academic standing at their school, and maintain a minimum grade point average of 'C', or 2.0, during their application time and membership as a junior firefighter. All applicants must complete an application, which includes passing a medical authorization and police background check, with signed parental consent by their parent or legal guardian, and their application must be approved by the corresponding fire station chief.
The M.D. Regional Fire Department itself helps cover a very large geographic area with 4,200 square kilometres — that does not include the Vauxhall, Enchant, Hays and Grassy Lake areas which have their own volunteer firefighting services which work as a collaborative.
That is a lot of area and a lot of volunteers needed to keep these fire services as little of a burden as possible to tax payers as a volunteer service, while also making them very efficient and effective.
Stoking the fires of interest with something such as the the junior firefighter program can help with recruitment of volunteers first coming into the system and already having these volunteers getting two years of training is a cherry on top of the sundae.
Much like a Take-Your-Kid-to-Work Day, the program gives teenagers another avenue to pursue in their adult working lives be it a trade, post-secondary or whatever in exposing kids to as many things as possible in broadening their interests and horizons.
There are all types of volunteerism available for people out there to help make their community better, be it through school, church, sport, theatre group or service club. The junior firefighter program is another positive add-on to that while also teaching youth teamwork, thinking on your toes and various other useful skills in their training in the program.
Given the nature of volunteerism the junior firefighter program demands, it is nice to see the M.D. of Taber looking like it is adhering to some loftier standards than the bare minimum to have youth involved in the program.
The job of a volunteer firefighter is a serious one that can possibly deal with death and destruction and it looks like those that the M.D. of Taber are looking to attract in the junior firefighter program take their responsibilities just as seriously.
The one drawback that could be seen in such a program is the potential for a youth to get hurt while in the program.
But it looks like on the surface the M.D. of Taber has this covered in their precautions with such things as not being allowed to enter a structure fire, a junior firefighter not being permitted to operate vehicles, stray from the sight of their assigned superior, leave the vehicle during an emergency with a downed power line or a gas leak until area is cleared or have contact with an injured person or dead body.
Mental scars can be deep ones indeed having to see the last example and it is good to see the M.D. shielding youth from such an example.
The M.D. of Taber will have to be ever vigilant in insulating the youth in the above mentioned provisions or else the immense promise the junior firefighter program has could be derailed quickly.
Nevertheless, the junior firefighter program has a long-term vision to it to help get a jump-start on recruitment in helping make it sustainable by having a strong base among the youth of the M.D. of Taber, Vauxhall, Hays, Enchant and Grassy Lake areas.
And who knows, it could help start a long tradition already here of multi-generational farming and ranching families, where also encouraging youth in firefighting can lead to volunteer firefighting being a family tradition.