Easy holiday hot chocolate bombs for this holiday season
Posted on December 14, 2022 by Taber Times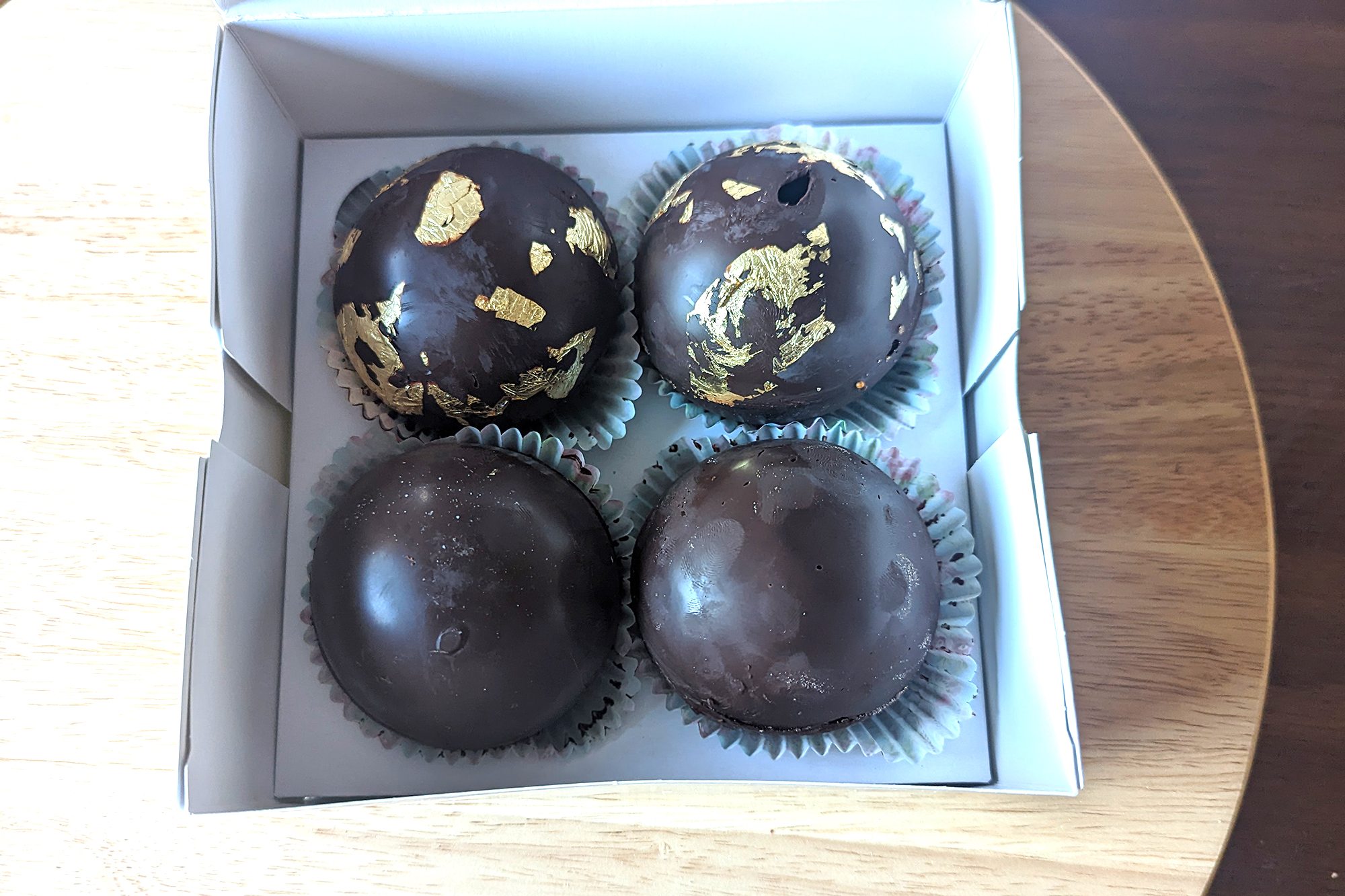 Hot ChocolateBombs: Add gold leaf or festive decorations for a personalized touch.
By Erika Mathieu
Taber Times
These chocolate bombs are so easy and don't require a lot of ingredients. They're one of my favourite homemade gifts because they barely take any time to come together.
They really don't require a lot of prep. The basic idea is that you fill a chocolate sphere with hot chocolate mix and pour warm milk over it to melt the "bomb".
They are super forgiving if you make a mistake so there are no wasted ingredients. The ingredient list is simple: Dark bulk chocolate or chocolate chips, a tablespoon of coconut oil, hot chocolate powder, and optional sprinkles. The only other special equipment you need for this is a pastry brush and spherical silicone molds. I got mine online, but I know you can find them at bake shops, craft stores, or even the dollar store. Mine are about three inches in diameter.
I'm a fervent baker, but sometimes all the running around can get out of hand during the holiday season, especially with the cost of ingredients skyrocketing. This year, I opted to supplement my usual Christmas baking with some hot chocolate bombs. These treats go well with a splash of Bailey's. But on their own, these are always a hit with the kids.
To prepare, I microwave about one and a half cups of semi-sweet or dark chocolate chips at 30-second intervals, with about a tablespoon of coconut oil. Stir after each interval until smooth and fully melted. I've had a lot of trial and error to get these, right, and one of the tips I can offer is setting your silicone molds into a cupcake tin, so that when they set in your freezer they retain their shape and don't deflate on the bottom half
Once the chocolate and coconut oil is melted and my molds are set out, I pour about 1-2 tablespoons into each semicircle and use my pastry brush to pull the chocolate up the sides and cover the bottom of the mold. This layer can be thin and it doesn't have to be perfect because I like to go back often go back for a second layer of chocolate to reinforce it once the semi-circles have set.
Once you've completed your first fill of the molds pop, your muffin tin into the freezer until the chocolate is set, usually about five to ten minutes. Once my semi-circles are set. I gently remove them from the molds and put them back in the freezer and align the baking sheet. I continue my next round to keep everything from melting.
Once you have your semi-circles made up, you can begin to fill them with hot chocolate mix. If you're making a lot of bombs, I would recommend buying a big tin of hot chocolate mix. Spoon one serving size into one half of your sphere, and add optionally some sprinkles or mini-marshmallows
To seal the seam with your top semi-circle, you can pipe a small line of melted chocolate and fuse the top and bottom pieces together. However, I find the fastest and cleanest method is to heat up a clean baking tray in my oven for one or two minutes until just warm and set it on a dish towel in my workspace. Then take the top half, and press gently and quickly down onto the warm pan, just enough to melt the edges before, placing it on top of my filled half making a sphere.
You can store it in the fridge until you're ready to use or gift it. I picked up some seasonal pastry boxes from the craft store, attached some handwritten instructions, and tied them off with a bow.
One thing I will mention is that I think this recipe works better, with heated milk rather than heated water, because the chocolate shell, melts more smoothly in milk than in water. I tried mine with regular dairy milk and oat milk and both were successful. When preparing your hot chocolate, make sure your milk is hot enough to melt the chocolate, especially if they're coming from the fridge. Pour on top or drop the bomb in your mug and mix and enjoy.