Odd-Berta: Torrington's world-famous gopher museum
Posted on June 29, 2022 by Taber Times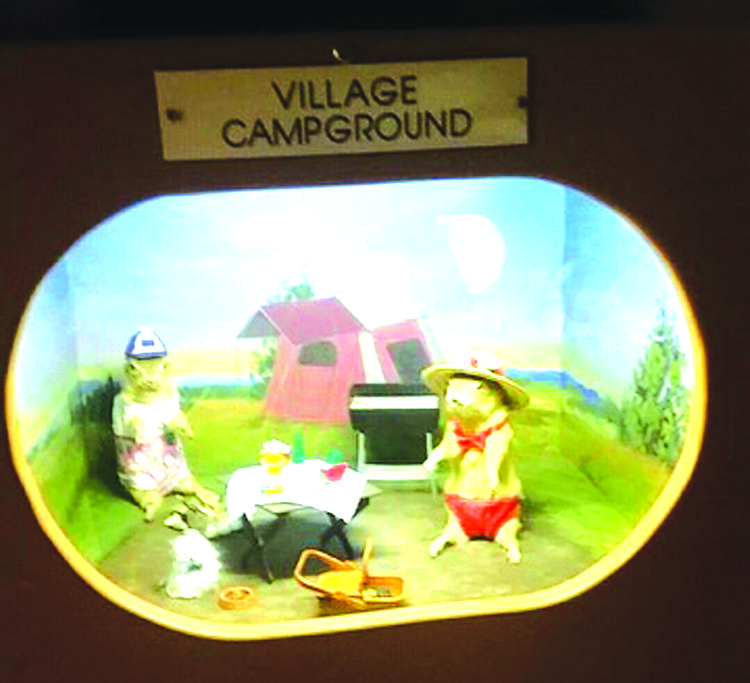 Torrington's world famous gopher museum showcasing a favourite Alberta pasttime: camping.
By Erika Mathieu
Taber Times
I am not the first person to write about the Gopher museum, and I certainly won't be the last.
In its own odd way, it has become a bit of an Alberta institution. I know there are a ton of tourist-worthy stops across the province, especially for museum lovers, Coaldale's own Gem of the West, and Picture Butte's Coyotes Flats tractor museum, are among some of the fantastic local museum experiences in the area. The Glenbow, SAAG, and Art Gallery of Alberta are all fantastic options, with world-class exhibits and thoughtfully curated galleries, but if you are someone who enjoys being off the beaten path, the world-famous Torrington Gopher Museum is one for the books.
While Torrington offers a unique one-of-a-kind experience, the tiny hamlet in central Alberta is home to what most people would consider a niche and unconventional museum experience. Torrington, home to about 300 people, is a small agricultural town approximately 160 km northeast of Calgary.
A kitschy 12-foot statue of a cartoonish gopher observes the day-to-day meandering of the townsfolk, fire hydrants are painted to showcase the hamlet's rodent mascot, and a quaint but memorable museum hosts hundreds of visitors every day. The museum houses dozens of taxidermied gophers who have, through the transformative and restorative process of taxidermy, come into their own in various tableaus to look like little people doing various tasks and activities. If you have never seen a gopher at a hair salon, you can now, because it is on display in Torrington in Torrington.
Along with plenty of plain brown and beige gophers, the museum is also home to rare "black gophers" which prompted a detailed explanation from the owners accompanied by a certain air of pride. Apparently, these black gophers are a real rarity amongst the local Richardson's ground squirrels population, so neighbours in and around the area know to contact the museum in the event of a black gopher sighting.
The museum has gained a strange cult-like following. If you thought there was no market for anthropomorphized Richardson's ground squirrel taxidermy, you would be wrong. The tiny town's most famous attraction sees hundreds of visitors pass through each day; pretty impressive for a hamlet with just 300 residents.
So, if you find yourself looking to explore Alberta's open fields and stellar sunsets, and you have a bit of time to burn, this odd spot is definitely worth scurrying over to check out. I think you'll dig it.