'Flip 'n Hits with BNL' — virtual live stream life support in trying times
Posted on April 12, 2021 by Taber Times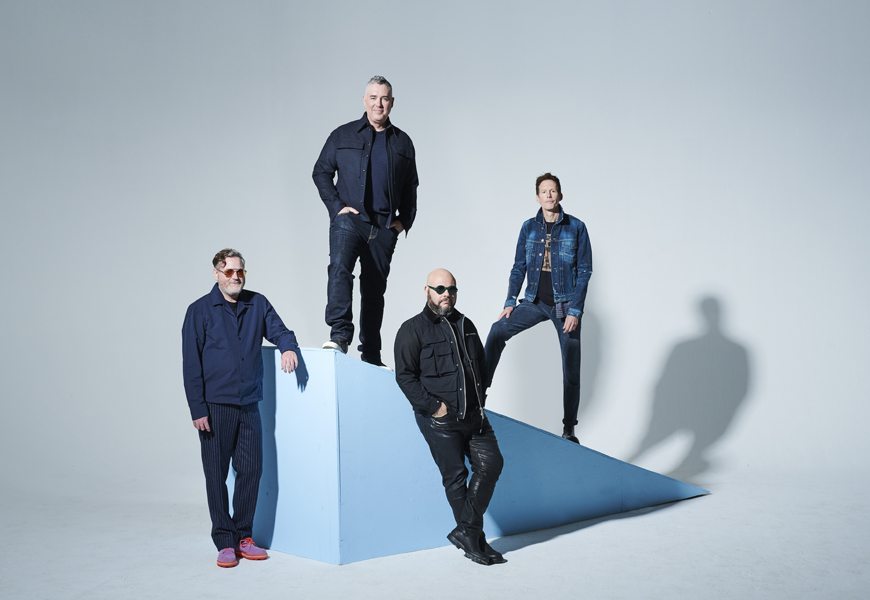 By Stan Ashbee
Southern Alberta Newspapers
Canadian music ambassadors Barenaked Ladies bring their signature brand of hijinkery and sing-a-long songs to the virtual stage Apr. 17 & 18 with "Flip n' Hits with BNL: A Night of Monster Jams of Pandemic Proportions." The concert can be viewed online at 7 p.m. Alberta time on the Saturday and an encore performance will be available Sunday. The show will be 60 minutes long and will be available for fans to experience from any region, across the globe. For this event, BNL are returning to the historic Danforth Music Hall in Toronto for the first time in 30 years.
 
"We had such a blast playing together again when we made the holiday special, and we've been trying to find more ways to connect with fans. The "Selfie Cam Jams" are fun, but we're really jonesing to play an actual concert," said vocalist and guitarist Ed Robertson.
 
Robertson added the band chose a very special venue in the history of BNL. "The Danforth Music Hall was where we played one of our first really big shows in our hometown over 30 years ago. It's going to be cool to return and share the experience with fans all over the world. Does anybody remember laughter?"
"Flip n' Hits with BNL" will only take place at posted show times and will not be available to view after the event. There is no rewind! Hosted by Sessions, tickets start at $15 USD and ticket bundles with exclusive commemorative merchandise are available to purchase. View the trailer at: https://youtu.be/eE2WrRs7i-Y.
"I absolutely, 100 per cent miss being with the guys and playing concerts," said drummer Tyler Stewart, joking it's at least nice to have a virtual career happening, as the COVID-19 pandemic saunters on. "Remember when it was only going to be two weeks and then the summer and then blah, blah, blah."
Stewart said the band thought they'd be out on the road already by this summer with vaccines being distributed and the like. "But lo and behold, we are not."
According to Stewart, the crazy thing was the band was doing what it could do at the time. "In retrospect, we were lucky enough to actually record this live stream." The upcoming concert was pre-recorded prior to the most recent pandemic lockdown and restrictions put into place in Ontario.
Overall though, Stewart pointed out, performing for the live stream was fun, but was "hilarious playing to an empty theatre."
"We're known for our live show — interacting with the audience and everybody having a great time. Some of the call and response stuff like 'If I Had a Million Dollars' — where you turn the microphone to the crowd and it's total silence," he joked. "We all couldn't help but just laugh."
But it also was an indication of how much the band thrives off of the energy of the crowd. "And when it's not there, it's almost comical in its absence." Stewart said. "You really had to depend on each other for energy."
One of the great things about shooting the virtual concert was having everybody together, including the band's crew, Stewart noted. "Most of our crew have been with us for over 20 years. Having them in their positions doing their job — all be it in proper PPE, covered in gloves, masks and face shields and all of the above was hilarious — but it felt just so good. Just everybody at their station doing their work and it felt so good to be on the stage with the guys."
With "Flip n' Hits with BNL," Stewart said, fans will be seeing some guys really glad to be doing what they do best. "Obviously, playing our hit songs is always a good time. I think if anything, we appreciate it more too. You realize, you take a break from something and how much you actually enjoy doing it when you get back together. So I think that's a palpable feeling from all of us in the band."
Also, during the virtual performance, fans can expect to hear a brand-new song, as the band debuts the catchy and somewhat infectious "Flip" from their forthcoming album. Stewart said it is hoped the new album will be released this summer.
"The new album is called 'Detour de Force' because we were forced to take a detour. We kind of feel like the album is a bit of a tour de force, if you will," said Stewart.
In terms of the new album, Stewart explained, the band started recording it last January and February — right before the pandemic began. The band then took about four months off into the summer. "We got into the studio and finished it off in Toronto. It was great. After being locked down for a few months and then being able to get into the studio and record was really great."
Another recent announcement from the BNL camp was the rescheduling of the band's extensive Last Summer On Earth tour to 2022.
"It'll be the third try. What is it, three times lucky?" Stewart joked. "We're hoping that happens in 2022. We're pretty sure it's going to. Fortunately, we have all of the same dates in the same cities. We may even add a couple of cities. As it stands right now, the lone Canadian date is July 21, 2022 with the Gin Blossoms, Toad the Wet Sprocket and our friend Kim Mitchell. So, that should be a great show."
But, before the summer of 2022, Stewart said BNL would love to get back out on the road in Canada.
"I am hoping perhaps by the winter time. We have a Christmas record. There's nothing better than touring across Canada in the dead of winter. Maybe we can actually get out there and do some work towards the end of this year or early next year. We're all itching to get out. I'm sure Canadians too will be ready to get the hell out of their house and rock out with BNL," said Stewart.