YEP student takes on new role at the Times
Posted on October 21, 2020 by Taber Times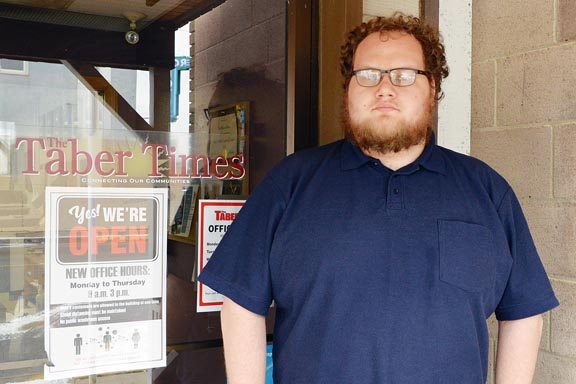 Hello Taber Times readers, I am Ian Croft, the new junior reporter here at the Taber Times. I will be working for the paper for the next nine weeks as part of the Taber Youth Employment Program. I was born and raised here in Taber and I have been doing some creative writing on and off for the past four years. So I'm very much excited to bring my talents to this paper.
I'm a lover of the arts especially when it allows individuals to express themselves through creative methods. As someone who has expressed themselves through multiple media such as painting, digital art, music, and writing I would still have to say that my favourite type of artistic expression lives within the theatre. In middle school I had the opportunity to be part of The Music Man production and loved it. For the next couple of years I would always audition for the school musicals. These musicals were The Music Man, Oliver, Little Shop of Horrors and, Annie. Annie was the last musical that I was a part of while I was attending high school and it is where I had the lead role of Oliver Warbucks. After leaving high school I was in my first non-musical theatrical production which was 12 Angry Men performed in the Empress Theatre in Fort Macleod.
Another one of my interests and, loves in life that is tangentially related to theatre is tabletop role playing games or, TTRPG's for short. Where in theatre the script is already written and, the audience is an ever-changing group of people from night to night; TTRPG's allows you to write the script as you go through and, improvise your way through the scenario that you and your friends find themselves in. The only audience is you and, your friends at the table. I have played Dungeons and Dragons, Pathfinder, Shadowrun and, Starfinder. Where the theatre lends itself to telling timeless stories such as Romeo and Juliet I will still always prefer the often bizarre and collaborative storytelling that TTRPG's tend to create. For I personally find nothing is better than reminiscing with your friends about that one time they propose to a goblin while infiltrating the mansion of a vampire or, the heroic actions of a small band of heroes fighting against an incursion from another plane of existence.
However with the current state of events in the world now those late nights gathered around a table with your friends rolling some dice have had to move to a digital space. Thankfully the infrastructure was there for when the transition needed to happen and if not I'm sure my experience and, dabbling with technology would've insured that I could've gotten things to work. Before the virus hit I was attending Lethbridge College and, was enrolled in the Computer Integrated Technology program. While in the program I learned the basics of C++ and, web design. So with my knowledge of coding I have been able to write a program that could simulate all the necessary aspects to run a game for any of the tabletop role playing games I've previously mentioned.
Although theatre and creative improvisational group storytelling are some of my favourite mediums of art and artistic expression I do very much like the more newer takes on some of the more traditional forms of art. For example Outrun and, Vaporwave and, the aesthetics that both of these music genres bring to electronic music. Also, the interesting aesthetics that they brought to digital art.
Although they are both similar genres that nostalgically look back to the 80's and 90's they do have some very keen elements that differentiate themselves from each other. Vaporwave is a cynical tongue in cheek commentary on the increase of the capitalism consumer culture throughout the 90s with a focus on computer technology and software, while Outrun is more of a celebration of the 80's style and culture. Although the two styles of digital art which came from the musical aesthetics are similar they still also differentiate themselves stylistically. Vaporwave has more calming ethereal pinks and blues with Greek marble statues and, glitching computer screens functioning as the background for most artwork compositions. Where as Outrun's digital art has a lot more darker backgrounds with bold bright neon red and, neon purple as primary colours with vehicles driving off into the sunset.
Another medium that I have an interest in is that of Japanese animation or what is more commonly known as Anime. I first discovered this medium back when I was in Grade 6 while I was browsing through Netflix. The first show I watched was Soul Eater and, fell in love with Anime ever since. While other people may prefer the more polished look and aesthetic found within more Western animation I personally find the fluid and somewhat simplistic style presented in anime grants the medium a certain charm in comparison to other animation styles. One of the big differences between Western animation and, Anime besides the obvious aesthetics is that Western animation is animated on ones. Which means that every frame is individually drawn while Anime is animated on twos which means that every other frame is individually drawn. This causes a slightly more choppier sense of motion but, this also lends itself to better present action. To sell action in animated mediums there are several tricks that animators can use, one of them being the build and release of tension. This is most commonly seen when a character pauses for a brief moment allowing the tension to build and, then in a split second does something to release all that tension. So with anime being animated on twos that release of action happens a lot faster because usually only the initial, midpoint and, end frames are drawn allowing it to fill in the rest. This all results in the points where tension is being built to last a little bit longer. Then that sudden burst of action happens a lot quicker mostly because, it isn't really animated resulting in our brains filling in the rest. This in turn causes the action to look a lot more tighter and snappier.
The final one of my interests that I will be writing about in this column is that of video games. The first video game that I can remember playing was Eschalon Book 1, an indy single player isometric RPG made by Basilisk Games. I can still fondly remember listening to the game's relaxing soundtrack while wandering around this vast magical world. From there I would move on to other RPGs such as Dragon Age and, World of Warcraft and other genres such as strategy and puzzle games.
Some of the things I love most about playing video games is just how easily they can pull you into a different world and have you look at problems and, issues from a breadth of different angles. Such as the bizarre bending of space found within Portal and its sequel Portal 2 or, the several questions of morality fate and, choice found within Undertale. As well as the games that just allow you to freely explore their world and, do whatever you want such as in the endless blocky expanse of Minecraft or the star jumping epic that is Starbound.
Now that you know a little bit more about me I hope you enjoy and, look forward to reading my future articles here within the Taber Times.