Cornfest always a different experience
Posted on August 30, 2017 by Taber Times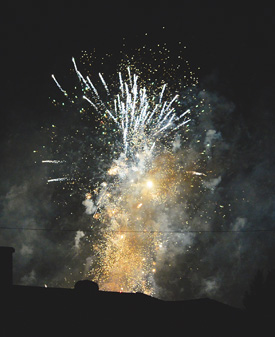 TIMES FILE PHOTO
By Greg Price
Taber Times
gprice@tabertimes.com
Summer is over and with it another Cornfest is in the books.
I've now covered Cornfest for 15 seasons and while many things stay the same, even the same events have a different flair to them from year to year.
So here is a slice of life column on my observations for Cornfest 2017: 
TRAFFIC FLOW: There were many changes made to Cornfest 2017 compared to past offerings. How successful each one was will be noted in a volunteer debriefing this week.
All I know is I was very thankful for the road closure coming from downtown Taber crossing to Confederation Park. Impatient drivers and huge amounts of foot traffic do not mix and kudos to Cornfest organizers for recognizing that.
It was such a pleasure to stroll across the street to Confederation Park and back without doing double and triple takes for traffic. And truth be told, exactly how big of an inconvenience was it for drivers? You literally only had to move one block over to make your way around. Depending on the times where foot traffic is at the highest for Cornfest, I bet drivers got to their destination faster anyway with the detour.
TASTE BUDS: Working in the office, I lost track of time and almost missed out on being able to taste some of the offerings at the Scotia Bank/Ken Moffit Chili Cook Off.
The offerings were pretty tasty again this year and I know it is a point of pride to the many community organizations or businesses in town when they win the competition, but it really is such a crap shoot depending on the taste buds of the selected judges.
There are pretty much the same variables you look for in say something like the corn judging competition like sweetness, tenderness and appearance.
But for chili, there are so many different ingredients that a judge could (or could not) find pleasing to their palate.
I've seen such wildcards as pineapple, shrimp, potatoes, bison meat and a whole array of spices go into different offerings.
I remember wondering if I should blackmail one team many years back that I took a picture of who did the sacrilege of using CANNED CORN in their chili.
A judge may like something more sweet, maybe a little more spicy, or is a little more old school and doesn't like too many different ingredients in their chili.
Whoever ends up on top, it's a community group that ends up the big winner with proceeds of the event going to charity.
HEALTH MATTERS: After what I estimate having bladder stones floating around for over a year, I was finally able to rid myself of the vile things through surgery and with it has come a little more attention being made to my health.
I have probably consumed more water in the last two months than I have in the last two years to go along with looking for some healthier alternatives when I eat out.
I also got myself tested at the Cornfest Man Van with a PSA blood test for colon health on Saturday and I encourage anyone over 40 years old to do the same if they haven't if the van returns in 2018.
I beamed with pride a bit when I heard organizers say they were way busier than last year and asked the reason why.
One of the organizers said that many of them had read about it in the newspaper.
YOUNG AT HEART: When I see how many kids enjoy the music at Cornfest by showing off their dance moves on the stage, I wish I had my youth again. Oh, I still cut a rug every once in awhile, but it's usually aided by some liquid courage.
As adults we become more and more self conscious, but there is that carefree and innocent joy of life when we were in our single digits of life that you see every year at Cornfest that makes us oldies feel young again.
OLD ACQUAINTANCES: There are many people I see throughout the calendar year in my private and business life, but it always seems like you bump into that person you haven't seen for months even though they still live in the Town of Taber.
Pumping the tires of the Taber Times again, I met a person in the beer gardens who moved away to Calgary in the 2000s and is still a faithful subscriber.
There are many former Taberites who have moved away from the small town, but the big celebration of Cornfest finds a way to bring them back home.
LOOK ALIKE: I know what Mitch (Wiley Wiggins) is doing now off of Dazed and Confused…he is working carnival midways at Taber's Cornfest.
I of course jest, because that classic movie I suggest everyone watches comes from 1993 and the former actor is now in his 40s. But the teenager he played in the movie had his twin working the Cornfest rides.
The resemblance was uncanny. I wanted to tell him that, but I'm sure the millennial would look at me funny, much like when I ask others around that same age group if they know some of my bands from my youth.
CRUISING: I always marvel at the vehicles I see at the Cornfest show and shine and I realize, unless I come into a huge amount of money, I'll never be one of those "car" guys. I would just be too paranoid to drive these beautiful vehicles even a block unless I had huge amounts of cash in the bank incase disaster struck and I crashed the car.
Interviewing many people over the years who are involved in the classic car culture, you see the passion is self evident every Cornfest when you walk around downtown on Saturday, seeing cars of yesteryear.
NEW AND IMPROVED: Having fireworks for two days for Cornfest was certainly noticed and for me, new act Dr. Von Houligan hopefully returns. The interest was certainly there as I saw packed shows every time I walked by the big tent where the 90-minute show was on. Mixing in magic, juggling and incredible feats, it seemed pleasing to both young and old and showed that Cornfest organizers do not want to keep things stale, be it in their stage entertainment or activities around Confederation Park.
FOODIE: While relatively trying to eat healthier to a degree that a bachelor who burns water can, that adherence of course slid at Cornfest sampling the many different vendors.
I try and mix things up, supporting the different community groups while also giving some different private vendors a try.
It is certainly a time of the year much like Christmas, Easter and Thanksgiving where one's gluttony can be excused.
TIP OF THE HAT: A pat on the back must be given to all the volunteers and sponsors who make Cornfest happen where families can enjoy an economical weekend together having fun.
With how smoothly things go from year to year, their efforts can often be taken for granted.