Educators leave lasting impression
Posted on June 29, 2017 by Taber Times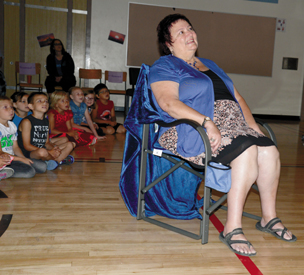 MEMORY LANE: Darlene Peckford watches a video presentation of her past history at the school and beyond at her retirement send-off at Dr. Hamman School after 22 years as principal. TIMES PHOTO BY GREG PRICE
By Greg Price
Taber Times
gprice@tabertimes.com
"We won't cry because it's over, we will smile because it happened."
I do believe those words were splashed across a video tribute to retiring Dr. Hamman School principal Darlene Peckford in her last day as an educator on Friday, a paraphrase of a famous Dr. Seuss quote.
I was informed of her retirement tribute the week before and like many an assignment, I thought it was going to be a quick 15-minute photo shoot and out…but I lingered much longer, swept up in the moment of exactly what Peckford meant to the school in her 22 years as principal.
It was a packed gymnasium filled with past and present students, staff and parents for the morning-long assembly featuring song performances by students and staff, video tributes from every grade and heart-felt speeches that left some in the room, including Peckford, teary eyed.
I guess it shouldn't have come as a surprise for me, having covered the Taber area since the early 2000s.
Dr. Hamman School has been one of the better covered schools in the Taber readership area.
That has not been by design or preference, but by passion of staff at the school. The staff at Dr. Hamman would promote their school quite well by informing the Taber Times either through phone calls or e-mails of upcoming events or educational initiatives, sometimes even weeks in advance to ensure our presence, in the pride they felt for their students. I'm sure that pride is infectious, starting from the top down, with Peckford helping lead the way.
As with anybody, people and life gets busy and things slip people's minds. I'd sometimes get a call of an event a half hour before it was happening at Dr. Hamman.
But even if I or other editorial couldn't be there on such short notice or were shorthanded with people on holidays or out of the office, some staff member was willing to snap a picture and submit it.
Every year, the Taber Times does its school preview stories in the fall, and I would make sure I got the story for Dr. Hamman. Given the passion in her voice even though it was a story I did with her nearly a dozen times previously, Peckford seemed just as much a second mom to her students as she did a principal.
Several students lined up after giving their final performance to Peckford on Friday, giving one last embrace of a hug, reserved usually more for the closest of family than a teacher/administrator.
When your Horizon School Division superintendent couldn't make the retirement due to previous commitments, but still takes the time to make a video message, you know you've done something right in the impact you have made not only in the halls of Dr. Hamman School, but the rest of Horizon School Division in collaborative efforts.
There are good and bad employees in every profession and even the good ones have their bad days.
But, it never seemed like Peckford was an educator that was simply looking to fill the hours between school bells, waiting for Easter, Christmas and summer holidays with aplomb. She was engaged with her students and given the outpouring of love shown at Peckford's retirement, obviously the students were very engaged as well.
Education is so much more than history books, math equations, spelling bees, and gym class. It is about building healthy social skills and a world perspective just as much as it is academic skills and from what I viewed at Dr. Hamman, the school had many different special events that tried to mold the two different worlds together.
Peckford recounted a story to me of a grandma that came to the retirement celebration saying one of her former students who is now in high school wishes they could of been there, with grandma thanking Peckford for helping shape her grandchild in to the person they are now. While the child's educational needs were being met, it seems the emotional, social and character building needs were being met as well.
Everyone one remembers the special teachers and administrators that graced their lives in their educational journey into adulthood.
As was quite evident by Friday's celebration of Peckford's retirement, it seems many will remember Peckford.
And as I look back and reflect on my time covering Dr. Hamman School and writing this column, I know I will. Happy retirement Darlene and happy trails to wherever life takes you in your next stage of life.