Signal to Noise shows the magic in music
Posted on June 24, 2015 by Taber Times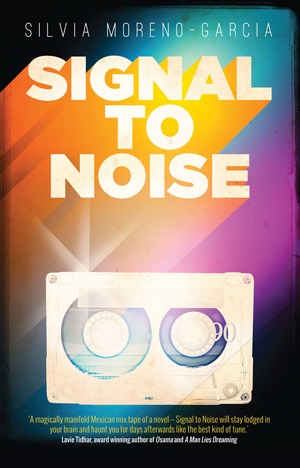 Times graphic submitted
By J.W. Schnarr
Taber Times
jwschnarr@tabertimes.com
There is a scene in Silvia Moreno-Garcia's debut novel Signal to Noise (Solaris) where the two main characters, Meche and Sebastian, are standing across the street from each other and seeing each other for the first time in many years.
Then without saying anything, they turn and walk away. The scene says almost nothing in terms of action, but it says everything in terms of who these people are and who they have been.
For me, the scene was a pivot for every thing that happened before that moment and everything that happened after.
Signal to Noise could have been called "The Book of Sighs" and I think it would have been just as fitting.
The novel is filled with wishes and regret, and magic, and the words feel like the heavy breeze before rain.
There are two stories braided together in this novel, though in all honesty it seems less like a braid and more like one thread wrapped around the other. The story of Meche discovering magic with her friends Sebastian and Daniela in Mexico during the 1980s is by far the anchor here, while another side of the story involves Meche returning to Mexico for her estranged father's funeral years later and seemed to be the "wraparound" portion of the tale.
It makes sense, as that story as Meche as an adult deals with the fallout and repercussions of the things that happened decades earlier.
In the 1980s, Meche is obsessed with music and discovers it has power – she is able to channel spells by harnessing the energy built in to her father's vinyl albums. The system of magic in the story is simple and quite effective. Meche has spell casters in her lineage (her grandmother), while the vehicle for that magic comes from her father, who instilled in her a love of music and allows her to discover the power of it on the human soul.
Moreno-Garcia's characters are people you probably knew in your life when you were young.
Meche is a defensive, brooding soul, easily offended and hurt by the world around her.
She is every teen who was ever outraged by their lot in life, reacting before thinking at times, and strong enough to speak her mind regardless of consequence.
Alternatively, Sebastian is manipulative and single-minded in pursuing a relationship as the source of his happiness, traits which are often negatively attributed to women in a lot of fiction.
The two characters follow their own paths but orbit each other through story – a decaying orbit – with a stability in the early chapters that quickly gives way to an impending sense that they will have no choice but to smash together as the story progresses.
In the course of this journey, they tackle the things that hurt us all as young people, from unrequited love to broken marriages and problems at home, to feeling like an outcast and not fitting in, to the pain we cause to those we love most when we're too blinded by our emotions to see around us.
Their ability to glean magic from music and bend it to their wills begins as a shared secret binding the three friends together. Later, it becomes a survival tool as they use it to fend off the darkest parts of their lives.
But things really begin to unravel when a sense of entitlement grows out of their successes, and their own individual goals threaten to destroy the safety they have as a group.
Signal to Noise is a strong first effort by Moreno-Garcia, and by stepping into the lives of these people I get a sense of great things from her in the future.
She has a concise, understated writing style I found a pleasure to read.
If you are looking for a book this summer, you could do much worse than pick up a copy of Signal to Noise, which is perfectly paced for hot summer nights.
For more information on Silvia Moreno-Garcia, please visit her website at http://www.silviamoreno-garcia.com.