Roy Rogers rocks live blues venue
Posted on April 15, 2015 by Taber Times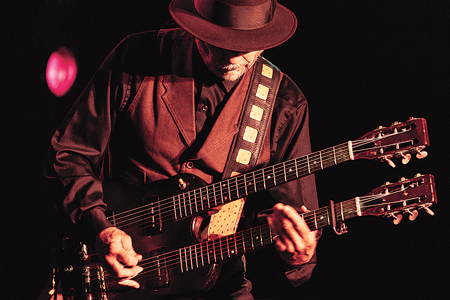 Times photo submitted by Cody Wheeler
By Trevor Busch
Taber Times
tbusch@tabertimes.com
Drawing the curtain on the 2014-2015 performance season to a memorable close for Blues at the Bow, the live blues venue welcomed Roy Rogers and the Delta Rythm Kings on March 21.
Blues at the Bow, located in the historic Bow Theatre in Bow Island, is a down-home club in the tradition of juke joints of old.
Cranking out rocking live blues, it has garnered the reputation of being a listener's venue and celebrated 20 years of great music in 2014.
An exceptionally articulate blues/rock slide guitarist, Rogers was no disappointment for the sell-out crowd that graced the doors of the venue in late March, travelling from the foggy shores of San Francisco, Calif. to perform for the final show of the Blues at the Bow season.
Known for his virtuoso slide work which was on full display in Bow Island, Rogers' (named for the "singing cowboy") command of slide styles was comprehensive in scope, blurring the lines between contemporary blues and traditional style rock and roll to create a sound which pleased young and old alike.
Playing through two sets with multiple encores, Rogers scorched his song line-up to the spectacle of dozens of dancers and fans, unleashing a torrent of talented riffs for pleasurable evening.
In the 1980s, Rogers was a member of John Lee Hooker's Coast to Coast Band, producing four John Lee Hooker recordings — "The Healer", a Grammy winner, "Mr. Lucky", "Boom Boom" and "Chill Out."
Rodgers also produced two Grammy nominated recordings for Ramblin' Jack Elliott entitled "Friends of Mine" and "A Long Ride", while co-writing "Gnawnin' On It" which was nominated for 'Best Female Rock Vocal' for Bonnie Raitt, a long-time friend and collaborator.
Rogers has also performed or recorded for a diverse spectrum of artists including Linda Ronstadt, Sammy Hagar, Zucchero, John Gorka, Elvin Bishop, Carlos Santana, Steve Miller, and Ray Manzarek.
Discography: Rogers And Burgin: A Foot In The Door (1978 Waterhouse Records), Chops Not Chaps (1986, Blind Pig Records), Slidewinder (1988, Blind Pig Records), Blues on the Range (1989, Blind Pig Records), R&B with Norton Buffalo (1991, Blind Pig Records), Slidewinder (1992, Blind Pig Records), Travellin' Tracks with Norton Buffalo (1992, Blind Pig Records), Slide of Hand (1993, Liberty), Slide Zone (1994, Capitol), Rhythm & Groove (1996, Pointblank), Pleasure & Pain (1998, Pointblank), Everybody's Angel (1999, Roshan), Slideways (2002, Evidence), Roots of Our Nature with Norton Buffalo (2002, Blind Pig Records), Live! At The Sierra Nevada Brewery Big Room (2004, Chops Not Chaps), Slide Guitar For Rock & Blues (2005, Chops Not Chaps), Crossing with Reidar Larsen (2006, Chops Not Chaps), The Best of Two – Slide Zone and Slide of Hand (2007, Chops Not Chaps), Ballads Before The Rain (with Ray Manzarek) (2008, Friday Music), Split Decision (2009, Blind Pig Records), Translucent Blues (with Ray Manzarek) (2011, Blind Pig Records), Twisted Tales (with Ray Manzarek) (2013, Chops Not Chaps).
For the inaugural show of the 2015-2016 season, Blues at the Bow will be welcoming Rick Estrin and the Night Cats on May 23, 2015.Tickets will be available online at http://www.bluesatthebow.com.