Wildrose looking to grow Alberta with five priorities
Posted on April 22, 2015 by Taber Times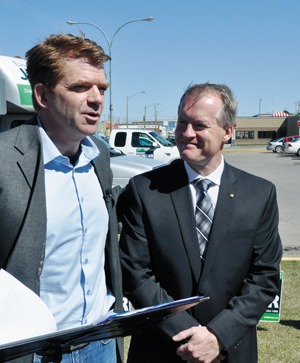 Times photo by Greg Price
By Greg Price
Taber Times
gprice@tabertimes.com
In a game of follow the leader, party leader Brian Jean is hoping the winner will be Albertans when they vote Wildrose.
As part of the party's Follow the Leader campaign, Jean stopped by Taber on Friday with local Cardston-Taber-Warner Wildrose candidate Grant Hunter in tow, preaching the party's five priorities which were revealed earlier this month.
"We think nothing is more important than health care, nothing is more important than education. We are making sure we bring accountability and democracy back to our great province," said Jean.
"We are going to do exactly that and we are going to concentrate on the things that matter. The people have spoken clearly and they want a change. We will bring that change, as long as we have your help."
Those five priorities include Jean promising the Wildrose Party would cut spending and deliver a balanced budget by 2017 without any tax increases or cuts to front-line services.
The accountability the Wildrose leader spoke of included legislation to prohibit MLAs from floor crossing without a byelection.
"Jim Prentice said we needed this election (May 5) because he needed to have a clear mandate for his budget and he brought his budget down. But he doesn't even want to talk about his budget, he wants to talk about the Wildrose budget," said Jean. "He knows his budget is full of tax hikes, and those tax hikes are going to hit all Albertans, but primarily they are going to hit the pocketbook of middle-class Albertans. This is a widely unpopular budget, he knows it's an unpopular budget. Who wants to pay taxes when you don't need to? Who wants to pay taxes when it goes to support a bureaucratic nightmare that is wasteful that taxes us for accomplishing nothing?"
Jean stressed the Wildrose fiscal plan is the most detailed plan any opposition party has ever done or presented in Canada in the history of the country.
"It's the most detailed plan ever. We are very proud of that, we have spent a very long time working on it to make sure that this plan was fully costed. That we have looked at the plan from all angles. To have an opposition do that during an election, it has never been done before in this detail," said Jean. "The numbers are there. The numbers are clear. The plan is costed and it is confirmed. We feel it's the right plan for Alberta and it is the right numbers. It's the kind of numbers Albertans want to see. No tax hikes, cutting the fat from government and stretching the five-year infrastructure capital plan to six years. We Albertans want a government to bring in a budget that is not only balanced, but a budget that actually considers the ramifications are to Albertans. So Albertans can afford to make their mortgage payments, so Albertans can afford to make their car payments, so Albertans can afford to enroll their kids in activities that whatever their priorities are for that money. Because we know one thing is for sure, Albertans know how to spend their money better than government does."
Jean was pleased to see the support of the crowd gathered by the giant corn stalk sculpture, the vegetable Taber is known for, by the Aquafun Centre, espousing the value of local candidate Grant Hunter.
"When a person comes into a community like this, it sends goosebumps to see all the support Grant has. We have a great candidate here in Grant that I'm so glad you are going to support. We need to have an opportunity in Alberta to bring real change and grant Brian Jean and the rest of the Wildrose candidates from right across Alberta to bring that change that is s necessary and so long overdue."
Provincial voters will be going to the polls May 5.