Prentice tour reaches southern Alberta
Posted on April 22, 2015 by Taber Times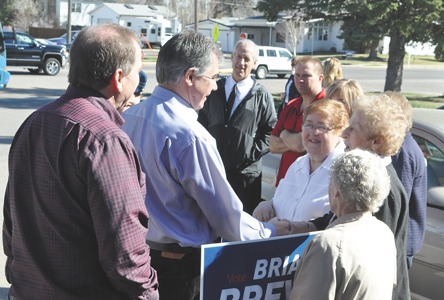 Times photo by Trevor Busch
By Nick Kuhl
Southern Alberta Newspapers – Lethbridge
Travelling around southern Alberta has shown Premier Jim Prentice that it's time to restore common sense in the province.
"We see the effects of the collapse of oil prices and the effects it's having on the economy and the job losses that people are experiencing," said the provincial PC leader as he addressed supporters during a campaign spot at the Lethbridge Lodge Friday afternoon.
"Only a fundamental change, in terms of how your tax dollars are spent, is going to make the difference that we need to see. We're going to fight to hang onto every single job in this province. There's nothing more determined and resilient than an Albertan, and so we'll get through this."
During his 20-minute speech, Prentice said he and his party have a "realistic and clear plan" that will protect and create jobs, cut costs, balance the budget, and live within our means, as well as continuing to build the necessary infrastructure to ensure Alberta students are competitive in the world economy.
Prentice, who was one of three party leaders in the area on Friday, also spoke about his enthusiasm for the two Lethbridge PC candidates: Tammy Perlich in the east riding, and incumbent Greg Weadick in the west, calling them "incredibly strong voices for Lethbridge." Both were at the rally, as was retiring Lethbridge East MLA Bridget Pastoor.
Other primary issues he discussed were seniors care, health care, stable funding for post-secondary students and landowners rights.
"I spent the better part of 20 years of my life fighting to protect the rights of private property owners, farmers and ranchers in this province," Prentice said.
"Private property rights are a fundamental aspect of our democracy and they need to be respected always by our government. I intend to make sure that that happens."
Wildrose leader Brian Jean was in Taber Friday afternoon to meet with supporters. Earlier in the day he said Wildrose is the only party landowners can trust to stand up for their property rights, saying "Team Prentice" doesn't even know what rural Alberta looks like.
"Not only does Wildrose respect your right to own land, but when government policy or other decisions adversely affect your ability to make a living on that land you have a right to a hearing, an independent appeal, and fast, fair, and timely compensation," Jean said in a release.
NDP leader Rachel Notley also had a number of Lethbridge appearances Friday, beginning with a whistlestop at the Lethbridge East campaign office of Maria Fitzpatrick, followed by canvassing with Lethbridge West candidate Shannon Phillips, and wrapping up with a surprise birthday party in her honour at the Owl Acoustic Lounge.
Earlier in the day, Notley announced a plan to show how school and hospital projects are prioritized.
"It's time to end the political games that too often decide when and where shovels hit the ground," she said in a release.
"Setting the right priorities isn't just about infrastructure. It's about delivering the public services that matter most to Alberta's families. Jim Prentice actually thinks he can build this province by cutting it down. He could not be more wrong."
"One party tells us that we should just keep spending, but they have no idea of how to keep pace with the costs," Prentice said.
"The other party thinks we can just cut, but they won't tell us where they're going to cut or what they're going to cut. I couldn't be prouder than to be the leader of the Progressive Conservative party at this point in time, going to Albertans on May 5 asking for their approval and for a mandate."