Milk River native Haugen on the campaign trail for NDP
Posted on April 15, 2015 by Taber Times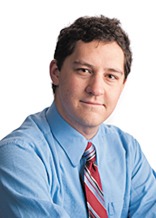 Times photo submitted
By Trevor Busch
Taber Times
tbusch@tabertimes.com
Taking a second swing at the Cardston-Taber-Warner riding for the NDP, Milk River native Aaron Haugen is busy hitting the campaign trail in the constituency.
"We've had 44 years of PC governance, and they still haven't been able to figure out that the price of oil goes up and down, and plan for it," said Haugen. "Now, I think people are getting sick and tired of being told we can't afford the services we deserve, and being blamed for wanting those services."
A digital journalism student at Lethbridge College, Haugen currently resides in Lethbridge, but has strong ties to the Cardston-Taber-Warner riding.
Haugen lamented what he considers a long laundry list of failed leadership for the ruling PCs, suggesting Jim Prentice's incarnation of the party is just the second coming of the same old cavalry.
"No different from any other previous incarnation since the 1990s — Don Getty, Ralph Klein, Ed Stelmach, Alison Redford — it's still the same entitlement of we know what's best, and we're going to look out for our buddies in the corporate sector, and those of you who actually live here, work here, and make money for them — tough luck."
Haugen views educational infrastructure in the riding to be a vital and key campaign issue.
"There's issues with schools, funding for them. A lot of our schools were built in the early 1950s, and they're in need of upgrade to technology, and they keep getting pushed to the back burner when we deal with these schedules to rebuild, because of the massive growth of places like Fort McMurray, Edmonton and Calgary needing schools. They usually get the priority."
The NDP would utilize an approach to governance that emphasises working together rather than a more adversarial style system, according to Haugen.
"The NDP grew out of rural roots with the CCF in Saskatchewan. We need to look back to those roots to discover what we need to advocate to build a better province, that is not just a me against you, and I've got mine, so why should I care if you're elected. We're stronger when we're all pulling together."
The NDP is also looking to provide options for small business to become a more effective economic demographic in the province.
"We have a plan to help small businesses hire more people by supplementing 10 per cent of salaries up to $50,000, up to 100 employees for businesses that sign on," said Haugen. "That's a great way to get people hired, and will help businesses in small communities where capital doesn't accumulate."
Haugen is hoping to visit most of the major communities in the riding while on the campaign trail.
"We've seen what the PCs have done, we've seen what the Wildrose have done. All the NDP is asking is to lend us your vote so we can show you a better way, a better alternative that doesn't discount the actual people who live in the riding."