Agriculture still at the forefront of Alberta's economy; MLA Hunter
Posted on November 2, 2022 by Taber Times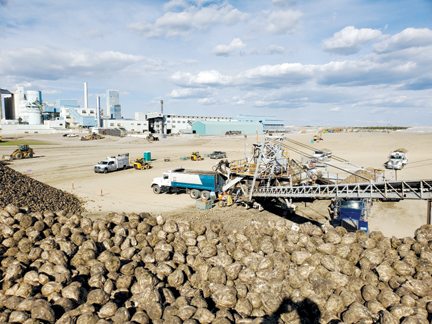 TIMES FILE PHOTO
By Cole Parkinson
Taber Times
cparkinson@tabertimes.com
The agriculture season is wrapping up with harvest at the end. While it was another year of challenging weather from tons of heat and some hail, Taber-Warner MLA Grant Hunter says he's hearing good things about this past season.
"I hear it's been a pretty good season for our farmers and they've been quite happy with the yields they've been getting, which is always good. We had a pretty tough couple of years there with some pretty bad drought. Lots of the dryland look pretty good, some people got hailed out so they'll have to go through insurance on that. Most of the farmers I've talked to have said 'yup, we've had a pretty good year'," he said.
According to Alberta's final Crop Report of the 2022 growing season, it showed about 10 per cent above the five-year average. The south region had the highest yields at 18 per cent above the five-year average. Meanwhile, the quality of hard red spring wheat, canola and dry peas were above their five-year averages, while durum wheat and oats were lower. Quality for malt and feed barley was on par with the five-year average. As of Oct. 11, about 99 per cent of all crops have been harvested, two to three weeks ahead of the five-year average.
With agriculture continuing to be a main economic driver, Hunter is busy at work promoting that work to new premier, Danielle Smith. As the work to establish the premier food corridor between Lethbridge and Medicine Hat is ongoing, Hunter says the new premier is very interested.
"I had an opportunity to tell Premier Smith about this and I said, 'look, you're going to be the MLA for Brooks-Medicine Hat, so it will have a direct effect on your riding.' She got pretty excited about that and said 'what do you need? Whatever you need, let me know and we'll make sure we help out where we can.' That agri-food corridor between Lethbridge and Medicine Hat, there's still quite a bit of work that needs to be done still," he continued. "Farmers are excited about it, the premier is excited about it, and she wants a brief on it since we only had half an hour to talk about a lot of things. She wants to have a full briefing on the progress we've made, what needs to be done, the value proposition, and everything. So, she'll get that and it's really busy for her right now."
While it's an understandably busy time with the by-election in Brooks-Medicine Hat upcoming, Hunter says the discussions will continue to pick up in the near future.
To read the full story, pick up a Taber Times issue or subscribe to an ePaper digital subscription! You can sign up for digital or traditional subscriptions on tabertimes.com by clicking subscribe under ePaper on the home page.