Rogers Sugar earns $5.53-million in fiscal Q3
Posted on September 30, 2020 by Taber Times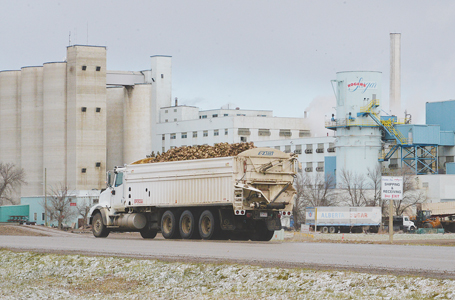 TIMES FILE PHOTO
Rogers Sugar Inc. has released its third quarter fiscal 2020 results. The company recorded adjusted EBITDA (earnings before interest, taxes, depreciation and amortization) of $14.3-million and $61-million for the current quarter and year to date, $4.5-million and $4.6-million lower than the comparable periods last year, respectively.
"The pandemic has resulted in strong consumer demand for both our sugar and maple products, while concurrently driving industrial and liquid demand lower, as the food service sector remains under pressure. We understand that the fight against COVID-19 is far from over, and as we address the unique challenges the pandemic brings, we continue to prioritize the health and safety of our people and remain committed to meeting the needs of our customers. Despite this challenging environment, we are focused on running our business and are seeing signs of encouragement for the future, including recent changes in export quotas that will allow us to supply incremental sugar volumes to the U.S.," said John Holliday, president and chief executive officer of Rogers and Lantic Inc.
Impact of COVID-19
The company's plants have continued to operate fully despite the COVID-19 pandemic, and production capacities have not been significantly impacted. The health and safety of employees remains the top priority and the company has continued its extensive protection measures, including: a special committee, comprising representatives from each site, that meets regularly; social distancing measures; additional personal protective equipment requirements; increased sanitation and rigorous disinfection procedures; temperature monitoring of all personnel prior to entry into one of the company's locations; and daily follow-ups by the company's nurses regarding all health-related questions and concerns. For the third quarter, the financial impact of the COVID-19 pandemic amounted to $2.1-million for both segments, largely due to increased health and safety measures and premium pay for employees.
Third quarter highlights:
• During the quarter, the company incurred $2.1-million in additional administrative costs associated with the COVID-19 pandemic.
• Total sugar volume was lower than the comparable quarter last year, as strong demand from the consumer volumes and additional opportunistic sales to the United States was offset by a reduction of volumes from the industrial and liquid segments.
• Approximately 5,500 metric tonnes were delivered under the global and Canadian refined sugar tariff-rate quota (TRQ) during the quarter.
Rogers returned $9.4-million to shareholders during the quarter, of which $9.3-million was through dividends and $100,000 was through share repurchases. A new NCIB was put in place and commenced June 3, 2020, to purchase up to 1.5 million common shares.
• Quotas were announced in the last quarter for 5,000 metric tonnes of refined sugar that can only be supplied by Taber by Sept. 30, 2020, as well as non-originating sugar refined in Canada of 36,287 metric tonnes to be supplied between July 1, 2020, and Dec. 31, 2020, by any sugar refiner in Canada. The company intends to fully deliver its Canadian TRQ by the end of the fiscal year and maximize its export volume to the U.S. under the non-originating sugar refined in Canada TRQ until the end of the calendar year.