Lantic Inc. expands 2,000 acres as a part of recovery strategy
Posted on May 13, 2020 by Taber Times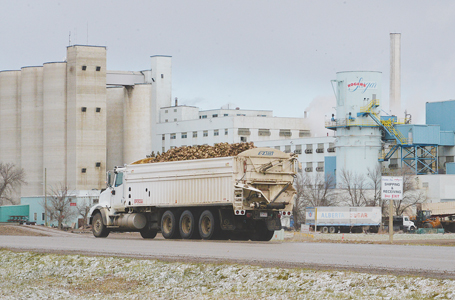 TIMES FILE PHOTO
By Justin Seward
Alta Newspaper Group – Bow Island
Local beet farmers experienced what had to be the worst harvest in a decade in 2019.
Lantic Inc., the local sugar processor, had announced in November the termination of the 2019 harvest due to "recent severe adverse weather."
A statement was released by the company at the time that frost prevented proper storage and processing of the sugar beets, leaving the estimated final quantity of refined sugar topping out at 70,000 metric tonnes.
Since then the sugar beet company has decided to expand from 28,000 acres to 30,000 acres to make up for the shortfall for last year's crop.
The additional 2,000 acres part of recovery will spread out among the 200 local sugar beet growers.
"Just the customer demand for beet sugar and the plan is to start processing the 2020 crop a little earlier than normal in September," said Bryan Avison, Lantic Inc.'s agricultural superintendent. "Just get white crystals in the bin and out to customers."
He says with the earlier processing, it will take the pressure off the two cane facilities to supply the Taber sugar beet plant.
Lantic Inc. had numerous discussions with Alberta sugar beet growers in the new year to increase the acres slightly.
"They're on board with it and are going to be excited to plant that additional 2,000 acres," said Avison. "You know farmers, I call them eternal optimists and there is optimism every spring and they're looking forward to a banner year, a good fall and a good harvest and storage period."
It was in 2009 that 25 per cent of the beet crops were left in the ground and the last time the harvest was terminated.
"We're not new to the impacts of weather," he said. "It just shows sometimes you can't control the weather and sometimes you have to make hard decisions and learn from them."
Bow Island/Burdett Sugar Beet Growers Association President Bernie Lyczewski says with the early September start it will allow for the plant to get going earlier.
"I guess the good thing about that we will be able to supply the sugar that we would probably have in store for coming into October if we would've got the whole crop out," he said. "The early harvest would have been a real benefit last year. I talk to some of the growers here and they had actually harvested most of their beets during the mini-harvest. They said after that changed, they were quite glad to do that. We do have a few guys here that dig early and they were the guys that did get their harvest done."
Lyczewski said with strange weather events that it may become more the norm and something the association will look at and work a part of this into the program with harvesting early and take risk off at the end.
"The new harvest season may see a piler upgrade for another low profile deck so semi-trucks can access all four decks to keep the flow more consistent.."