Migrant farm labourers exempt from some COVID restrictions
Posted on April 1, 2020 by Taber Times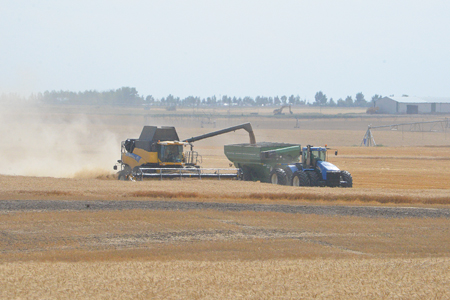 TIMES FILE PHOTO
By Trevor Busch
Taber Times
tbusch@tabertimes.com
Higher prices and possible food shortages may be on the way if Canada's agricultural industry isn't designated an essential service during the COVID-19 pandemic, warns a growing chorus from the sector.
Many producer groups are arguing railways, ports, fuel and farm supply stores, and implement dealerships and service would need to remain open if spring seeding operations are to go forward unhindered in 2020. Much of southern Alberta's agriculture industry is dependent on seasonal labour, however, and this question mark had local farmers anxious.
"When you talk to the ag sector, they buy most of their supplies through the larger warehouse buildings for fertilizer and seed, so the number of businesses that have closed on the main streets hasn't affected them to be able to start their farming operations," said Bow River MP Martin Shields. "But what they are concerned about — and Taber area's a bigger one — is the seasonal workers coming. Now, about a week ago the federal government said not this year, but finally they changed their mind and said yes."
Temporary foreign workers, and migrant farm labourers, are now exempted from some COVID-19 travel restrictions, but many details are still to be worked out.
"If they've got visas to come to operations they've been to before — and most of them have — it's how do they get here," said Shields. "Are they flying, let's say from from Mexico, then they have to go under two weeks restriction and isolation. How are they living, are they far enough apart in their farming operation? Is there distance separation between where they're working? So some of those things are still being worked out. But it has changed in the sense approval for those seasonal workers with visas to come from different countries. That's a concern in our area, as we've got a number of seasonal workers that come in."
Roughly 60,000 temporary foreign workers and labourers come to Canada annually, mostly from Mexico, Jamaica and Guatemala.