Exhibition, Rotary Club expand ag scholarship program
Posted on January 8, 2020 by Taber Times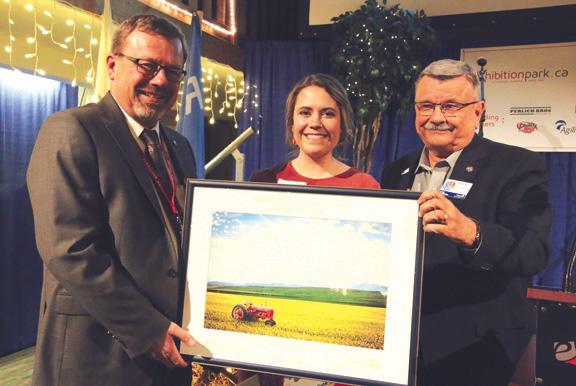 FRONT AND CENTRE: Lauren Machacek was the first-ever recipient of an ag-focused scholarship from the Lethbridge East Rotary Club and Lethbridge Exhibition Park. TIMES FILE PHOTO
By Nick Kuhl
Alta Newspaper Group – Lethbridge
Expanding a program after only one iteration could be considered a slight risk.
Except when you have such an overwhelming response to the original.
Such is the scenario for Exhibition Park and the Rotary Club of Lethbridge East. The two organizations recently announced details for a second year of the Agricultural Scholarship Award program, designed to further recognize the importance of agriculture in the community by supporting two top students in their pursuit of an agricultural career.
In 2019, there was one winner for $10,000. In 2020, they have expanded the competition to have two top agricultural student winners – each for $10,000.
"It's so exciting," said Wayne Lindwall, with the scholarship committee, during a recent launch event at Exhibition Park.
"We're so proud of having a partnership with Lethbridge Exhibition. We weren't sure how it was all going to work out. But we had excellent sponsorship last year. Many people wanted to get on board after last year's scholarship dinner. We felt good enough, based on the applicants we had last year, we should do two this year."
"I'm anticipating quite a few more applicants, just because the word is out and the success of the program," said Doug Kryzanowski, manager sales at Exhibition Park. "That's part of our culture at Exhibition Park – is agriculture. We live ag and community."
Applicants for the 2020 Agricultural Scholarship Awards must be legal residents of Lethbridge County, County of Taber, County of Warner, County of Forty Mile, County of Cardston, County of Pincher Creek, County of Ranchlands, County of Willow Creek, County of Vulcan, Blood First Nation, Piikani First Nation, Municipality of Crowsnest Pass or the city of Lethbridge.
The scholarships will be presented to students who have completed at least three years of college or university at a recognized institution. Plus, the students must have demonstrated high academic achievement and leadership qualities in an agriculturerelated field.
Lauren Machacek, the 2019 winner, was on hand and spoke about her experiences since earning the award in February 2019.
"It definitely, first of all, helped as a huge financial aid. But it also helped grow me in various different ways. One of them was that it allowed me to go to a lot of different conferences," she said.
The 2020 Awards Dinner Presentation will be at Exhibition Park's Heritage Hall during the week of Ag Expo on Feb. 27. It will feature keynote speaker Robert Saik presenting "Encouraging Youth to have a Future in Agriculture" about his 40 years of experience as a professional agrologist, entrepreneur and international consultant.
"He's started 15 different ag companies," said Andrew Bronson with the Rotary Club of Lethbridge East. "He's very inspiring. He knows technology is just everywhere now and farming is one of the huge adaptors of it all. It's a huge opportunity for young people out there."
Final selection of the two 2020 winners will be based on a formal interview with a Rotary Scholarship Committee. Applications have been available online on Nov. 18 at exhibitionpark.ca and rotarylethbridgeeast.ca, with a submission deadline of Jan. 24.
"We're looking for scholastic achievement in agriculture," Lindwall said. "We're also interest in students or applicants that have community leadership skills. You can't win if you don't apply."