New project on the horizon for RenuWell
Posted on November 27, 2019 by Taber Times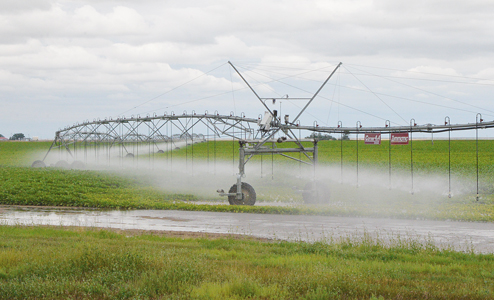 TIMES FILE PHOTO
By Cole Parkinson
Taber Times
cparkinson@tabertimes.com
While work on the initial RenuWell project continues, another opportunity has presented itself for both the Municipal District of Taber and RenuWell team.
While the original project is focusing on small scale solar, this new venture is around small-scale hydro systems.
"This is a different project, and kind of where this is, this is all done on spec at the moment. There is another program that came out called the Municipal Community Generation Challenge and this again through the MCCAC (Municipal Climate Change Action Centre), which is rural and urban municipalities association behind that. They are seeing opportunities for municipalities to generate revenue and generate economic development through renewable energy systems," stated Keith Hirsche from RenuWell at the M.D. of Taber's regular meeting on Nov. 5. "During the early portions of the project we are working on, the RenuWell project, we were approached by Alberta Innovates and the MCCAC saying 'we would like to see a pilot project get on the ground in the M.D. of Taber. We have this project coming so why don't you think of a way to get a proposal in.' So Brian (Peers, director of municipal lands and leases) and Derrick (Krizsan, former M.D. of Taber CAO) got a letter of interest in which was the first level of requirement. It was accepted the next day and so the next step was we had to do an expression of interest. This was more detailed and we had to do quite a detailed report. There is no payment for this at this point, it is all done on spec."
With three locations being looked at for the project, the team working on the project sees plenty of benefits for the region.
On top of cheaper electricity costs, the ability to store the generated electricity is another huge benefit they see the project bringing.
"A lot of these things have the energy storage side and they also have other community benefits as well, we did the economics on it. These are the three sites — Raymond Chute, Chin/Stafford and Yellow Lake. We see a lot of benefits," continued Hirsche. "We'd be able to demonstrate the value of repurposing these sites. Hopefully, we get more attention on these sites on the reclamation and remediation and the value of the existing infrastructure. Provide alternative revenue for landowners and municipalities. It also gives us the low-cost wind and solar because one of the things right now when the wind blows in the wintertime at night, there is always power being generated that is not being used. The power prices go right down to virtually nothing. With these projects, we could be pumping water from the lower reservoir to an upper reservoir and buying that electricity at a penny kilowatt-hour. During the day when it is up 10 or 12 cents a kilowatt-hour, when the demand is high, you just let the water run down and generate it. You are getting five to 10 times the return of investment."
While the M.D. and the RenuWell team have been working on this new project, more partners have been approached.
"We have three small hydro plants on our main canal. We have about 36 megawatts capacity. When Brian and Keith approached us, we had a view of how do we add value to the project, both in terms of investments and can we also develop some other small hydro plants along our main canal system in partnership with the M.D. We were looking at under one megawatt at a couple of places. For example, Chin/Stafford, that has been the dream for us to run a bigger system there that would be used during the irrigation season and used as pumped hydro in the wintertime so it would store energy," said Trevor Helwig of St. Mary River Irrigation District.
Early progress has continued from the entire group working on the project which has resulted in some findings that will push things forward.
One of the bigger developments stems from an Alberta Utilities Commission decision.
"This was accepted in September so we are now in the phase of proposal development. As you know, there is a lot of substation upgrades being planned. There was an AUC decision just this past year for a $16 million network upgrade because Fortis felt there was a one in 10,000 chance there could be a blackout at the Fincastle substation because of the heavy irrigation in 2017," explained Hirsche, who also explained the costs associated with electricity use. "Distribution and transmission costs have become two-thirds of your power bill."
For the M.D. of Taber, who is right in the heart of irrigation, Hirsche also went into detail on the benefits of renewable energy generation for farmers.
"In irrigation country, the dryer the year, the more water you need which higher your electricity bill but also more sunshine and more solar generation. It's a very nice trade-off," he explained. "Under this new small scale generation, and this is where Fortis is our friend actually. Fortis has to pay TransAlta for their power through the substation but if that power is being generated in the Fortis network and is used in the Fortis network, they don't have to pay TransAlta. What they do is, they give you a credit for that distribution. Under this, you can't completely get rid of your distribution but you can get credits to offset that distribution charge."
A motion was made to accept the presentation as information and was carried unanimously.