Highway 3 corridor looking to be premier ag location
Posted on October 30, 2019 by Taber Times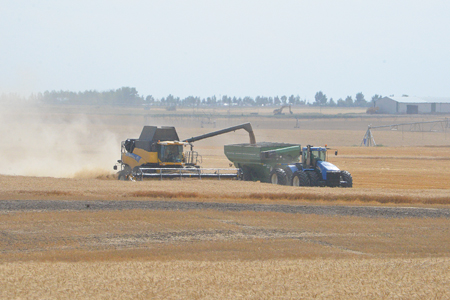 TIMES FILE PHOTO
By Nikki Jamieson
Alta Newspaper Group – Coaldale
A group of communities along Highway 3 are looking to become known as the place for food producers.
Started in late 2017, Canada's Premier Food Corridor is a consortium of regional economic professionals from Lethbridge County, the City of Lethbridge, the Town of Coaldale, the M.D. of Taber and the Town of Taber, who are working together to promote the region as the ideal destination for agribusiness investment.
"We saw a lot of other regions, kind of further north of us, some of the larger centres were really starting to talk about trying to drive investment attraction in food, and that has to do with, you know, the downturn in oil and gas, and other communities were looking at what are the other industries that we can take advantage of, and the federal government has actually released a few reports, and usually agri-food is one of those top industries that is identified as potential for growth for Canada," said Ben Young, economic development officer for the Town of Taber and a regional officer for the CPFC. "It made a lot of sense for southern Alberta to kind of team up with each other to work together on this, just because the Town of Taber is quite a small community, Lethbridge County, Municipal District of Taber, even with the City of Lethbridge combined, we have quite a lot of voice and quite a lot of ability to work together. But individually, it's very hard to do, so we kind of just saw a natural fit with the Highway 3 corridor being that geographical boundary. There are a lot of existing food processors and food activity going on in Lethbridge and in Taber and in Coaldale and in-between on the highway. So it just kind of made sense for us to work together."
Young cited the high-quality irrigation, value and quality of crop produced, labour supply and location to the U.S.A border as some of the strengths of the region, and points to the vast variety of ag-businesses in the area, that produce different food products along with all of the educational and research opportunities available.
"It tells you that this area, if you are in the business of food, you should be here," said Young.
"There is a huge diversity in what we can grow and what we can produce, and not only just in crops but in cattle, livestock and all that, that really the business opportunities are huge here. We have the capability and capacity to grow the food industry in southern Alberta, because of the high quality irrigation and because of those supply inputs."
"It just speaks to the strength of the capacity of this region for food processing and food production."
They are doing strategic planning and are currently working on creating a communications and marketing campaign to promote the region, and have plans to ramp it up over the next two to three years. They have also been travelling around to conferences to promote southern Alberta with one voice.
"Our plans for the future are to further engage industry as CPFC. So we really want to see industry really take ownership of CPFC almost in the long term, and what I mean by that is that they have buy-in and they see the value in participating as CPFC as like a joint promotional and marketing type of organization, and that industry itself starts to see where those gaps in the supply chain might be and then we, as economic professionals, can help support these initiatives to attract investments," said Young.
"It is still in its early stages, but we're experiencing a lot of success working together in a region, joining five municipalities together on a joint project is never easy, and we've found that the economic development councils and the community stakeholders that we've engaged have all been very supportive of this so far, and it really speaks to the regional collaboration we have going on in Canada's Premier Food Corridor."