Weed control actions helping TID
Posted on September 25, 2019 by Taber Times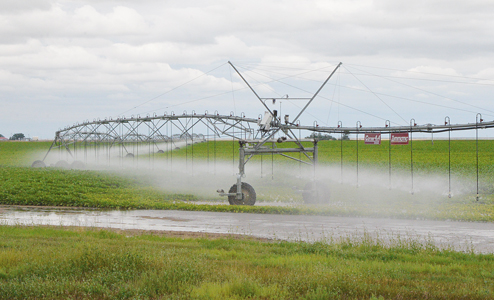 TIMES FILE PHOTO
By Trevor Busch
Taber Times
tbusch@tabertimes.com
Continued improvement to the Taber Irrigation District's weed management strategies has paid dividends for producers in 2019, reports general manager Chris Gallagher.
"It turned out very well. We did a very good job working on our regular Magnacide H schedule, that's the chemical we use for treating aquatic weeds and algae in our system. It's kept things under control pretty well. One of the things that we've noticed is that a lot of those gabian wall infiltration systems and deflectors and weed screeners have been doing the job very well."
Screening systems are loosening the need for producers to check their irrigation operations every few hours in some areas.
"We had the first full year of operation on our Big Bend Main Canal screen system, and we've had lots of reports from farmers who used to have to go out every couple of hours in the night to check their pressure filters, who are going a couple of days," said Gallagher. "It's made a huge difference on the quality of their life and managing their irrigation systems. We've had a number of reports off of that system where they've noticed a significant improvement in the water quality by simply keeping the weeds and algae filtered out and preventing them from getting into the canal."
An early algae surge from the St. Mary River Irrigation System (SMRID) which feeds the Taber Irrigation District caused some problems during the irrigation season.
"We did have one algae surge from the SMRID Main Canal early in the season, that was earlier in June. It was one shot, and then we managed to clean that up, and since then its managed pretty well. SMRID managed to get their treatment done, but this surge of algae came unusually early ahead of scheduled treatment," said Gallagher.
Prevailing winds on the Fincastle Reservoir have caused problems with the TID's works on the water body, and are being analyzed for a solution.
"Probably our highest priority right now is coming up with a solution for the Fincastle east and west canal system," said Gallagher. "They draw from the northeast corner of Fincastle Reservoir, and when we get the southwesterly winds, the weeds and algae just push straight into that approach channel. So some of the things that we learned in the Taber Reservoir for serving the Big Bend system, we'd like to take some of those learnings and apply to the Fincastle system."