Hail damages Taber corn, Barnwell also hard hit
Posted on August 8, 2019 by Taber Times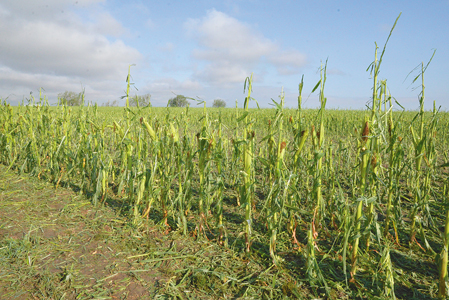 TIMES FILE PHOTO
By Tim Kalinowski
Alta Newspaper Group – Lethbridge
Barnwell area residents and farmers are still in a state of shock after a major storm packing 146 km/h winds and loonie-sized hail roared through the small community and its nearby farms just after 7 p.m. on Tuesday.
While the extent of the damage in the region wasn't completely known on Wednesday, Reeve Merrill Harris of the M.D. of Taber said driving around the countryside it appears the storm cut a long narrow swath centred around the village of Barnwell.
"Toward Barnwell and Cranford was the worst of it," Harris confirmed. "It's always very saddening to see crops wiped out completely from a storm like this. I am sure most people carry crop insurance; so there is some recourse or monies to be able to replace part of that crop loss, but not totally. It's always economically devastating when these sort of things happen. My heart goes out to all those affected. You just hate to see this sort of thing happen to your neighbours and local communities."
Jennifer Molnar, owner of Molnar's Taber Corn and Pumpkins adjacent to Barnwell, said she couldn't believe the extent of the devastation she was seeing in her family's crops.
"The hail came in and we were in the direct path of it," she stated. "It took out our corn, our market garden and all our pumpkins. We're 100 per cent hail-damaged. I don't know what the total dollar value at this point. We had at least loonie-sized hail. I'd say it was more the volume of hail that did the damage than the size of it; and, of course, the wind. It is devastating. That would be my word for it — devastation."
Molnar said they were only three days into their Taber corn harvest season, and it had been one of the best crops she had ever seen.
"It was looking fantastic. The pumpkins were also looking beautiful, and the market garden was the best we had ever had. For this year there is really nothing we can do but to plan for next year."
Michel Camp of CP Farms Ltd. said the storm also wiped out 80 per cent of his crops. His sugar beets might have a chance to recover, he admitted, but his corn, grain and potatoes are pretty much a total write-off for this year. His farm has insurance, Camp confirmed, but that doesn't make up for the emotional loss of one of the best crops he has ever had.
"It breaks a grown man's heart to see," he said. "I had a good crying session this morning. I was out touring the fields with my son, who is 15, and he was also emotional about this because he knows how much energy we put into the crop. To see it all taken away three or four weeks before harvest is very disappointing."
Barnwell Mayor Del Bodnarek confirmed most, if not all, community buildings sustained some damage in the storm. He said those on the western edge of town seemed to be harder hit than others, including the Old Colony Mennonite Church on the northwest edge of the community which had its siding completely peeled off on one side.
"We are seeing lots of trees down, lots of gardens destroyed and bad hail damage on windows and roofs," said Bodnarek. "Sometimes a person likes to think of himself as a big, tough guy, but you're at the mercy of Mother Nature when it whips up. And it's a little scary."
Bodnarek was having a family get-together at the time when the storm came through. The storm lasted about 20 minutes, he said.
"We had about 10 guests at our house," he recalled. "It was pretty frightening because we had little kids here when the wind picked up and the hail started. It was very loud. We have skylights in our kitchen, and that was one thing we were really concerned about."
Bodnarek predicted village crews would be cleaning up broken branches and helping clear infrastructure for several days to come.
"I would just say to local residents: 'Look out for your neighbours and see if you can help out,'" he said. "I would also remind everyone if you see utility workers just to give them lots of room to work."