Machacek honoured with ag scholarship
Posted on March 13, 2019 by Taber Times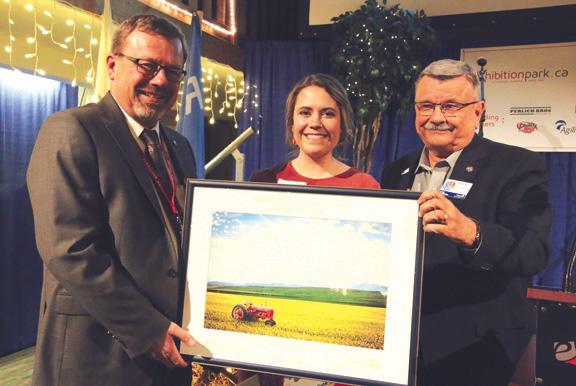 FRONT AND CENTRE: Lauren Machacek was the first-ever recipient of an ag-focused scholarship from the Lethbridge East Rotary Club and Lethbridge Exhibition Park. TIMES FILE PHOTO
By Greg Price
Taber Times
gprice@tabertimes.com
Agriculture has been a way of life for Lauren Machacek since she was raised on a mixed farm just outside of Taber.
Nine years of 4-H experience has steered her interest into the business side of agriculture, where she is currently a fourth-year student at the University of Lethbridge, working her way towards her Bachelor's Degree in finance, with a focus in Agriculture Management. Machacek already possesses a marketing diploma from Lethbridge College.
Machacek's educational voyage has now been aided by a $10,000 AG scholarship she won which was announced at Ag Expo in Lethbridge earlier this month, with Lethbridge Exhibition Park and Rotary Club of Lethbridge East making the announcement.
The Lethbridge East Rotary Club had been talking about doing a scholarship with a focus on agriculture for a number of years.
"At the district level we support scholarships nationally and internationally for Rotary International priorities, but we also recognize the importance of agriculture in southern Alberta," said Wayne Lindwall, committee scholarship chair, and assistant district governor of Rotary, in a press release. "We debated the value of the scholarship as well, but we wanted something that was significant, too, in relation to other scholarships. We weren't aware of any that were valued at $10,000 for undergraduates in agriculture and we thought that this project would attract some good candidates. We were looking for someone with scholastic achievement, but more importantly, we want candidates who are our future leaders in agriculture and good ambassadors for the agriculture sector and Rotary."
The first-time scholarship was open to fourth-year ag students across the southern Alberta region which included the M.D. of Taber, County of Lethbridge, Warner, Blood Tribe etc. High academic standing and community volunteer hours were heavily weighted into consideration for candidates who applied.
"I've always liked the business side of agriculture, even back when I was involved in 4-H as a kid. I did things like the record books," said Machacek with a chuckle. "I'd see things like raising cows and then seeing how I could make money with the business side. Once I went to school, I knew I wanted to go into business and stay in agriculture. Even when I go home, it's such a nice community with great people who you want to work with every day."
Machacek has served on the executive committees of both the Aggies Club and Business Club on the campus of the U of L. For the last three summers, Lauren has worked for the Agriculture Financial Services Corporation as a customer service representative and crop insurance adjuster. She has also received several scholarships and Deans List awards for her outstanding academic achievements.
She credits her leadership skills and commitment to the ag community thanks to her nine years of 4-H experience where she participated in both the New Ewe Sheep Club and Grassy Lake club.
"It definitely taught me a lot about public speaking, raising cattle, record-book keeping and how to hold a meeting. But I think it's most about community, and things like the Show and Sale where people come together," said Machacek. "It's like a second home where people are so familiar and friendly. And it's a good work environment. Everyone had their own job and set goals like wanting to be a grand champion. It taught me how people can work together for a common goal and it takes a village to make things happen. I have nothing but positive memories of 4-H."
While the official announcement of the scholarship recipient was made at Ag Expo in Lethbridge, Machacek heard the good news approximately a month earlier, where she had to keep it relatively quiet besides telling a proud pair of parents.
"I did an interview with the scholarship committee over Skype and they ended up calling me the next day. Goodness, I remember the whole day, my heart was pounding and when they told me, I was so excited," said Machacek. "It was like walking on clouds when I was walking around the school."
Plans are varied for Lauren on how she will use the scholarship money, where there are eventual plans of furthering her studies at the University of Alberta to take a Masters of Business Administration after she graduates with her degree in 2020.
"Part of it will definitely be going towards finishing school in my next semester to finish off my bachelor's degree. A portion of it I also want to dedicate to attending conferences," said Machacek. "I just attended my first Advancing Women in Agriculture conference in the fall in Niagara Falls and it was an absolutely unbelievable experience that made me excited about meeting different people, looking into different careers and encouraging community involvement. It really helps with professional development along with meeting people my own age. Getting young women involved in agriculture is very important to me."
Looking at the ag club at the U of L, half or maybe more are female. Machacek has never felt that men are holding women back in agriculture, but rather just women finding their voice and confidence in trying to be trailblazers in the industry.
"I do think it's a confidence thing. It's having the willpower for women to say 'I can do this just as well as a man' or 'I'll take over the family farm and I'm not going to rely on my husband to make all the decisions.' It's not like it's oppression or anything, it's just having the confidence to take that first step moving forward in making one more powerful and giving one's self more options," said Machacek.
Growing up the youngest on a farm in a family of six, Lauren has counted her blessings in being able to live the lifestyle.
"It's a lot more than just loving the farm and raising cattle. It's about sharing with others and how they are affected by agriculture with food consumption. It's about education," said Machacek. "Farmers are a really trusted source and we can do a better job of telling our story and communicating in why we do what we do. I'm young, but I think I will be a forever learner. Even over the summer when I worked for AFSC, there were dairy and hog farms, and different types of agriculture raising different types of crops. You always want to know the process that goes into anything and what we are putting into our bodies. I believe we have to do it sustainably and ethically in southern Alberta. It's showing people the process behind agriculture."