Irrigators benefit from precision agriculture
Posted on February 20, 2019 by Taber Times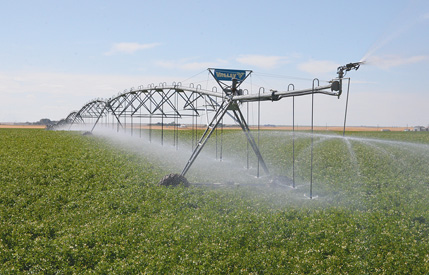 TIMES FILE PHOTO
By Trevor Busch
Taber Times
tbusch@tabertimes.com
Utilizing data collected from Taber Irrigation District water users, two University of Lethbridge economists have analyzed the impact of precision agriculture technologies on irrigated farming operations. Drs. Lorraine and Chris Nicol have conducted the first study in Alberta examining the adoption of precision agriculture in irrigation farming. Their survey shows users are reducing farm inputs and seeing positive economic benefits as a result.
Last fall, they conducted a survey of TID irrigators to find out the extent to which precision agriculture technologies are being adopted, the types of tools being used and the satisfaction with the technologies. They also looked at those who didn't use precision agriculture technologies and their reasons for not adopting. Twenty-seven per cent of irrigators in the TID participated in the survey.
"Based on the data collected, 81 per cent of irrigators have adopted some form of precision agriculture, at an average of five technologies per irrigator. Overall, those who have adopted are very satisfied with the technologies and almost all plan on using even more technologies in the future," said Lorraine. "Among non-adopters, most said their operations were too small to justify the high investment costs."
Precision agriculture involves parsing fields into small parcels based on variability, allowing more precise application of irrigation water, fertilizer, chemicals and seed compared to conventional methods.
"Precision agriculture application methods such as variable rate irrigation, soil moisture monitoring and field mapping for soil texture help reduce the volume of water applied to fields while meeting plant needs," said TID district manager Chris Gallagher. "Mutually beneficial goals of improved water supply security and aquatic environmental health are gained, and allow some expansion of irrigated agriculture using conserved water under existing water diversion licenses."
TID assisted Dr. Nicol in customization and fine-tuning of the survey, testing the beta version, and distribution to the irrigators through its website and email/text notification system. The TID was approached by Nicol in November 2017 with the study concept, and the board embraced the idea as a means to showcase the district's good practices and advocate funding for and use of technologies that will protect the local watershed and water supply.
The study identified 20 technologies including auto-steering equipment, variable rate fertilizer and irrigation application, soil-moisture monitoring, terrain mapping and analysis, unmanned aerial vehicle mapping, satellite imagery and various data management tools, for example.
"Precision agriculture has fundamentally changed the way farming is done and it has the potential to reduce costs and increase profits for farmers. Precision agriculture is also critical for sustainable agriculture. Using less fertilizer and less irrigation water, for example, helps lessen run-off and conserve water, so it's also better for the environment," said Nicol.
The TID, one of 13 irrigation districts in the region, has one of the highest concentrations of specialty crops, including potatoes, sugar beets, canola seed, beans, peas, corn, sunflowers and onions. These inputs are vital to processing industries as well as the confined feedlot industry in the region.
"The results help the TID to show both our water users and the public that we are on side with their concern about environmental impacts as we are both impacted by, and have impacts on, our shared watershed," continued Gallagher. "One of TID's goals is to provide the best quality water to our water users and we are counting on improved land management using precision agriculture technologies to lead the treatment train at the upstream end. It is encouraging to find that although irrigators are motivated to reduce inputs for economic reasons, they are also concerned about environmental impacts."
In a statement released by the TID board, directors focused on the report's usefulness in collating data about new technologies and their effects, as well as the demographics of adopters.
"The survey was designed to encourage the operator to provide their perspective on the impact of precision agriculture technologies. Different farmers will have used different methods of estimating benefits, but the strength of the key findings help justify the farmer's investment, as well as the benefit of the Growing Forward 2 and current Canadian Agricultural Partnership, in providing information and financial incentives to incrementally incorporate precision agriculture technologies into their operations. The detail of this study, the first of its type we've participated in, shows which technologies are being adopted, their effects, the motivations for adopting, and the demographics of adopters."
The TID consists of 115 to 120 irrigation producers who irrigate more than 80,000 acres. Its irrigation infrastructure also supplies water to several communities and many individuals.
"The study finds the adoption of precision agriculture technologies are enhancing the economics of irrigation farming through increased crop quality and greater yields, decrease inputs, and resulting improved bottom line," continued the TID board in their statement. "The obstacles of small operators to adopting these technologies makes sense in terms of the economy of scale, but they will need to change for their irrigation farming operations to remain viable. This may be through adopting as they slide into the slipstream of wider availability and lower prices demanded by larger operators, or through working together with larger operators in their rotations."
The survey showed that, under precision agriculture, crop yields have increased an average 20 per cent and yearly crop quality has increased by an average of 16 per cent. Yearly reductions in irrigation water, fertilizer, herbicides and pesticides have ranged between 14 and 24 per cent.
"From the small farmer point of view, and for sugar beet growers, some precision agriculture technologies need to be adopted to fully achieve the benefits of significant advancements in seed quality," said the TID board. "Together with improved seeding and spraying technologies this has resulted in a four-fold decrease in the number of passes, reducing soil compaction, reducing the quantity and toxicity of chemicals (esp. Roundup Ready® products) and keeping a cleaner field to reduce weed seed sources. Farmers have a strong desire to maintain the land and communities they live in through good environmental stewardship and the study results confirm this. The evidence shows that environmental impacts are declining through use of precision agriculture."
Non-adopters consist entirely of farms of less than 2,000 acres. Those irrigators generally cited the smaller size of their operations, high investment costs and incompatibility of machines as the main reasons for not adopting.
"The ability to provide the benefits of value-added irrigated agriculture to Alberta's GDP hinges on both the adoption of precision agriculture technologies and the sustainability, supported by the Irrigation Rehabilitation Program, of the irrigation infrastructure managed by the 13 irrigation districts," maintains the TID board. "Best efficiency and management using precision agriculture technologies require that all inputs including water follow the concept of applying the right product at the right rate, right time and the right place and irrigation delivery standards and the IRP program need to keep up to meet these goals."
The study was funded by a grant from the Alberta Real Estate Foundation.