TID answers questions on water allocations
Posted on February 13, 2019 by Taber Times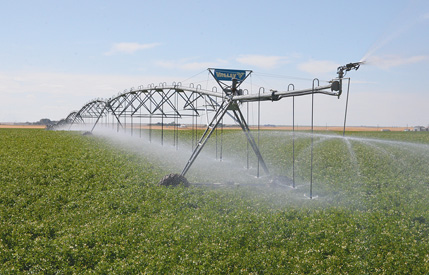 TIMES FILE PHOTO
By Trevor Busch
Taber Times
tbusch@tabertimes.com
Fielding questions from town council about the Taber Irrigation District's policies on sale of water allocations in the context of a proposed Southern Tributaries Water Sharing Agreement, district manager Chris Gallagher laid out the procedures employed by the district.
"Those are very good questions, because you want to make sure that there is actually water available and we're not divvying it all up," said Gallagher at town council's Jan. 28 meeting. "The irrigation districts have water licenses that specify volumes of water for diversion. Our license with Alberta Environment says how much water we're allowed to take each year, and that's assuming that water is actually available to take. Each irrigation district has expansion limits that state how many irrigation acres, plus terminable agreement acres, we're allowed to have on our assessment rolls. So we've got volume, and then we've got the number of acres we can apply that volume to."
The Southern Tributaries Water Sharing Agreement — which the town was being asked to ratify in January — has been developed by the irrigation districts to augment water users in southern Alberta with the objective of ensuring water security. Although all water users are are being asked to join the agreement, it remains voluntary and is intended to be mutually beneficial while recognizing all participants have differing abilities to reduce use.
Under the Water Act, senior license holders are permitted to share all or part of their allocation with others in the basin. The agreement is designed to provide security during times of water shortage to improve the sustainability of current development and support future growth opportunities for all water users. The irrigation districts hope to share a portion of their allocation equitably and proportionally during times of water shortage, and "encourage all participants to conserve available water according to their capacity and reasonable ability to achieve."
Through efficiencies and other improvements to district infrastructure, as well as the changing nature of technology involved in irrigation agriculture, new levels of acceptable risk are able to be determined that allow the TID to potentially do more with the same volume of water.
"Over time, irrigators adopt more efficient irrigation systems, and irrigation districts install pipelines and irrigation control systems that conserve water within our own licenses. At our request, Alberta Agriculture and Forestry conducts extensive water modeling of our water use in the irrigation district and advises on what is the acceptable risk. So there are standards that are applied across all irrigation districts on risk levels and appropriate expansion acres. If there is room to add irrigation acres within an acceptable risk, then expansion of irrigation acres using saved water is possible. So again, we're not enlarging our water licenses, we're using the water that's available to apply that same bucket of water on a larger number of acres," said Gallagher.
District expansions are subject to plebiscite approval of the membership, and the TID also has the ability to enter into conveyance agreements to provide water for non-agricultural activities.
"The results are reviewed with irrigation district membership through consultation, and a plebiscite to set the expansion limit, and any conditions on that," said Gallagher. "In addition to our expansion limit, TID has an amended license allowing 8,000 acre-feet volume of water to be used under conveyance agreements for various other uses, including municipal, industrial, recreational, agricultural, commercial, habitat management and other irrigation."
Gallagher attempted to alleviate concerns expressed by town council at a meeting earlier in January about the potential for district over-allocation of water or a loss of control over the municipality's own water allocations through signing the water sharing agreement.
"The town holds four water conveyance agreements with TID. One is simply to convey water under the town's license. That's not coming out of the TID allocation, that's your own water rights essentially, we're just providing the service of delivering it to the town. The other three are under the TID's amended license. These water conveyance agreements, through TID's license, is what is allowing the town to continue to grow and add water recreational features such as the new Trout Pond, which falls under a recreational water conveyance agreement. With access to the TID's amended license, the town is in a very water secure situation, and TID has allocated less than half of the 8,000 acre-foot volume under our amended license. So there's room to grow."
Gallagher viewed the water sharing agreement as a means of distributing risk between all parties so that none are left dry in periods of drought.
"The expansion limit and amended license volume are set to manage risk within the TID. We manage this well enough that we can share it. The water sharing agreement is a means of spreading the risk."