Foodgrains Bank celebrates 35 years of philanthropy
Posted on December 19, 2018 by Taber Times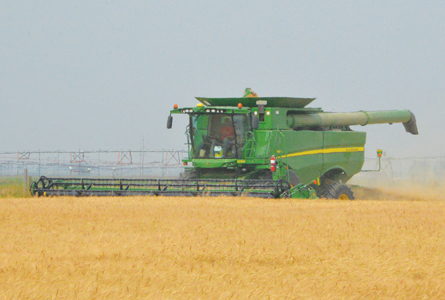 TIMES FILE PHOTO
By Heather Cameron
Alta Newspaper Group
Foodgrains Bank truly makes a difference to people in need and in 2018, the Foodgrains Bank is celebrating 35 years.
In 2017-18 alone, they helped over 800,000 people in 34 countries.
"Canadian Foodgrains Bank is a partnership of 15 churches and church agencies," Amanda Thorsteinsson, Communications Coordinator for Foodgrains Bank, said. "We were founded by Canadian farmers about 30 years ago who wanted to share of their abundance with people around the world who were suffering from the scourge of hunger."
Thorsteinsson says the Foodgrains Bank works to end hunger in about 35 countries around the world by providing emergency food to people in times of emergency such as war or drought.
Longer-term development assistance is provided to help people provide for themselves in the longer term, and emergency nutritional support and nutrition education is also provided for many, particularly for mothers and young children.
Recently, Foodgrains Bank was included on the Charity Intelligence 2018 list of the top 10 charities in Canada for social return on investment.
Thorsteinsson says that while Foodgrains Bank has always been confident in the impact of their work, they are glad to have this independent affirmation that their work is truly making a difference.
Founded in 1983, Canadian Foodgrains Bank is a partnership of 15 church and church-based agencies working together to end global hunger.
According to their website, each year, the Canadian government provides the Bank with $25 million in matching financial support.
"Charity Intelligence is a charity watchdog organization that independently examines charities," Thorsteinsson said. "Their mission is to provide Canadian donors with information that helps them make informed and intelligent giving decisions to have the greatest impact."
Thorsteinsson says Foodgrains Bank currently has approximately 230 growing projects across Canada where farmers and farm supporters grow a crop together, sell the crop on the Canadian market, and donate the proceeds to the Foodgrains Bank. Foodgrains Bank uses the donations to help end hunger around the world.
Many farmers also dedicate an acre of their land or a truckload to the Foodgrains Bank when they take it to their local elevator. Additionally, cattle auctions are organized to benefit the Foodgrains Bank, and sometimes people will donate an individual cow or beef cattle to the Bank.
The offices for Foodgrains Bank are located in Winnipeg, Manitoba and they receive funding through individual donations, donations from churches, businesses, growing projects, and through the Government of Canada, which provides an annual matching grant of up to $25 million a year.
"We are deeply grateful to the many Canadians who give generously to the Foodgrains Bank and trust us to steward their donations wisely," Thorsteinsson said. "It is something we do not undertake lightly, and we are glad their trust in us is affirmed by these results from Charity Intelligence."
Through the Foodgrains Bank, Thorsteinsson says, all 15 major Canadian Christian denominations (are working together to achieve a common goal-a world without hunger.
Together with support from individual Canadians, growing projects, churches, farmers and others, Foodgrains Bank is able to help about 800,000 people each year.
"It's a joy to meet the numerous people across Canada who are so dedicated to helping people they have never met but who are suffering from hunger," Thorsteinsson said. "It's an incredible blessing to be able to be part of such an incredible organization."